Article successfully added.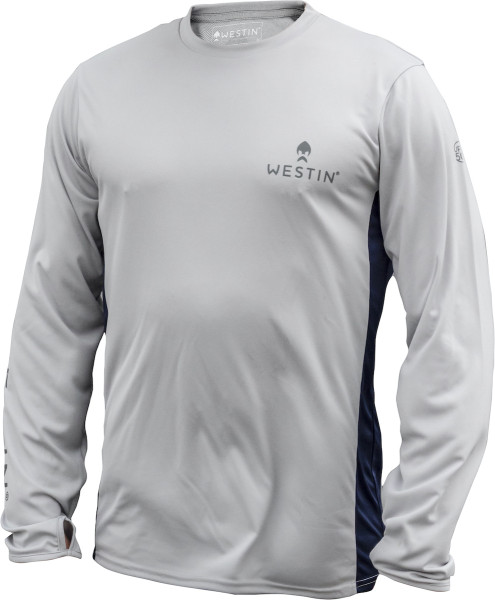 Westin UPF Long Sleeve Shirt grey/navy blue
Westin UPF Long Sleeve Shirt grey/navy blue
When it comes to long trips to the water on sunny days, the right clothing is an essential part of our equipment. Our skin is exposed to the dangerous UV rays for hours and we need to protect ourselves properly against them. Especially in summer, this radiation is very strong and we should take appropriate protective measures. Whether on the flat-skiff in the tropics or on our home waters, the sustainable protection of our body should come first!
With the Pro UPF Long Sleeve Shirt from Westin you combine wearing comfort with reliable UV protection. With a strong sun protection factor of 50 UPF, even the most aggressive UV radiation is efficiently filtered and your skin is protected from corresponding injuries. In addition, the lightweight material is super comfortable to wear on hot days, it is odor-resistant and quick-drying. Moisture is actively transported to the outside and keeps the body dry and cool.
Details:
100% polyester
UPF 50 sun protection
Moisture wicking and quick drying
No disturbing inner lable
Fit: Normal Fit
Color: grey / navy blue
About Westin:
Westin Scandinavia experienced was already established in 1952 by Ingvar Westin. Quickly, the little tackle house became a large fishing company, known first in Sweden and later throughout the whole of Europe. Due to the attention to detail and the perfectionist work on all products, Westin is now a household name to every predator fisherman. Besides specifically targeting large specimen, innovation and passion are the driving forces, that keep this brand moving forward.