Article successfully added.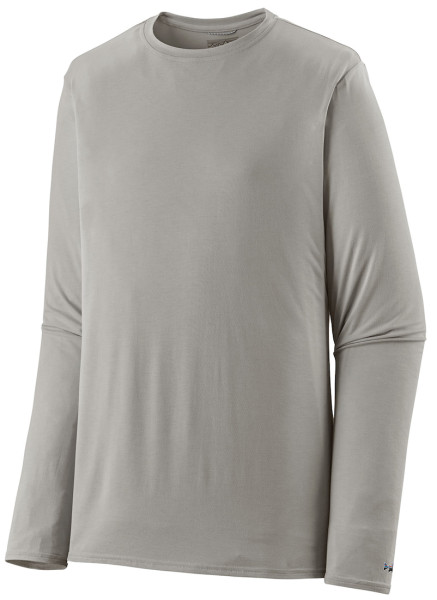 Patagonia Tropic Comfort Natural Crew Longsleeve TGY
15% EXTRA on Patagonia Sale

Daily XMAS Deal valid on 01.12.2023 and while stocks last. The extra discount will be displayed in your Basket.
*1
*1 Offer valid until 02/12/2023
Patagonia Tropic Comfort Natural Crew Longsleeve TGY
With the Patagonia Tropic Comfort Natural crew long sleeve shirt you are best equipped for fishing under glaring sun and oppressive heat - whether in the tropics or on home waters.
Made from renewable, natural beech pulp, modal is super soft and wears similarly to cotton, and is pleasantly soft against the skin without being sticky. The quick-drying polyester spandex fabric is highly breathable, absorbing and quickly releasing moisture to keep you dry at all times. With 40+UPF sun protection, the shirt provides the ultimate protection factor on hot days on the flats, river or boat. The slightly longer sleeves with thumb tabs cover the backs of the hands for additional sun protection.
Sauna or no sauna, the Patagonia Tropic Comfort Shirt offers supreme comfort and protects you from dangerous sun rays so you can focus on your target fish.

Details:
Shirt made from renewable, natural beech fibre
Polyester/Spandex functional shirt
Breathable
40+ UPF sun protection factor
Pleasant feeling on the skin
Loose cut for maximum freedom of movement
Sleeves with thumb tabs protect the back of the hands
Relaxed fit
Color: Tailored Grey (TGY)
adh-world
On adh-world you find a lot of useful information about sun protection.
"Similar to all other outdoor activities and sports performed on the water, a proper protection from dangerous UV radiation plays a big role in fly fishing too. Especially in the summer months when sun's intensity is the strongest."
About Patagonia:
Established back in 1973, Patagonia stands for sustainable and functional outdoor clothing. This impressive selection also includes a fantastic range of high-quality wading gear. In addition to reliable waders, wading jackets and wading boots, Patagonia offers a variety of practice-oriented backpacks and packs. As a co-founder of the "One Percent for the Planet" movement, Patagonia has been donating around 1% of its annual revenue to environmental organisations since 2002. By transferring the entire company shares, this inspiring brand set new standards in terms of sustainability. The "Earth is now our only shareholder" represented by the Patagonia Purpose Trust and the non-profit organisation Holdfast Collective. From now on, all profits – except for the money that is reinvested in the company – will be used to fight the environmental crisis and save the planet. In short: The high-quality products from Patagonia are always a great choice for environmentally conscious men and women who love fly fishing!