Article successfully added.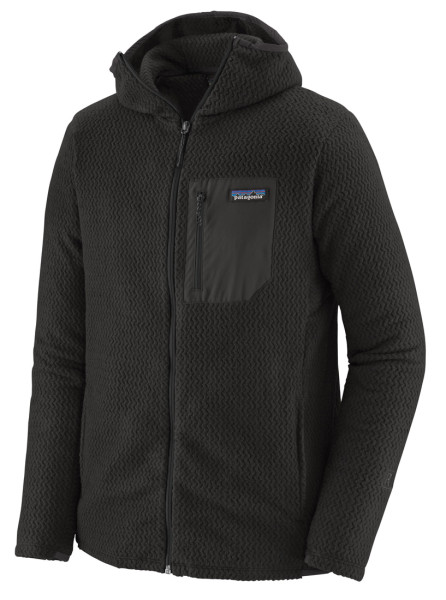 Patagonia R1 Air Full Zip Hoody Kapuzenpullover BLK

Example (different color)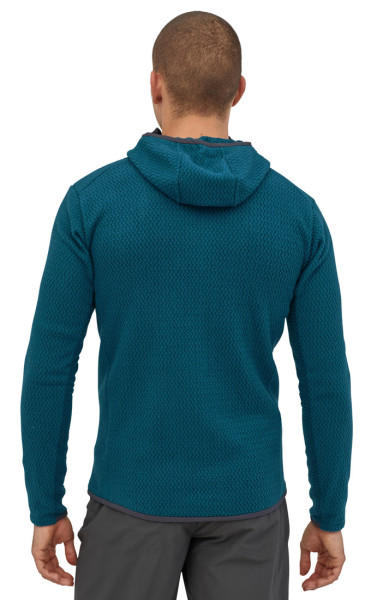 Example (different color)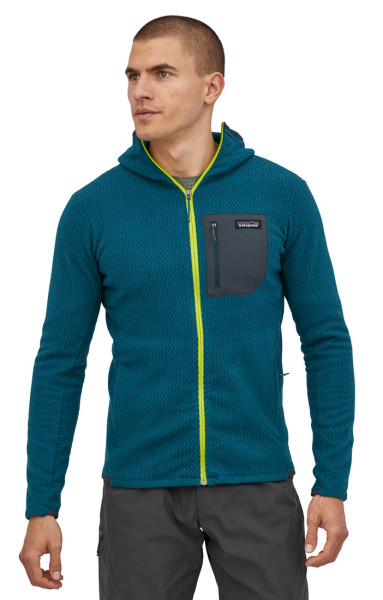 Example (different color)
Example (different color)
Patagonia R1 Air Full Zip Hoody Kapuzenpullover BLK
A cold day at the Baltic Sea, cold water during winter fishing at the river for huchen or grayling ... at this moment you are perfectly served with the Patagonia R1 Air Full Zip Hoody. Because who likes chattering teeth?

The R1 Air by Patagonia is a light, well breathing and quick drying technical fleece for strenuous activities in cold weather. The 100% recycled polyester material is structured to provide high comfort during active use. The hollow fibre material with exclusive zigzag structure wicks away moisture, dries quickly and is extremely breathable so you won't break a sweat even on long trips to the water. Furthermore R1 Air is equipped with a durable HeiQ® Fresh odour inhibitor - perfect for tours lasting several days :)

One of the features of the Patagonia R1 Air Full Zip Hoody is a breast pocket on the left side to store small items comfortably. This longsleeve is everything but bulky and offers special comfort when layering. The full-length zipper offers additional ventilation and the offset shoulder seams provide more comfort under a backpack. At the back of the hem and cuffs, the functional shirt has fast-drying, elasticated edging for best fit and comfort. The comfy hoody offers great protection against cold winds.

Whether in a layered system under a thick fleece sweater or insulation jacket or solo in milder temperatures: The R1 Air Full Zip Hoody by Patagonia is a modern, functional top for a variety of sporting activities and offers warmth and a comfortable fit. A green thumbs up is also given for the fact that it is made of 100% recycled materials and is Fair Trade certified.

Details:
Lightweight, well breathing, technical fleece
Material: 193 g/m² jacquard fleece made of 100% recycled polyester hollow fibers
Durable HeiQ® odour inhibitor
Zipper breast pocket
Offset shoulder seams
Comfortable Hoody
Soft material at cuffs and hem
Fair Trade Certified
Weight: 366 g
Slim fit
Color: Black (BLK)
About Patagonia:
Established back in 1973, Patagonia stands for sustainable and functional outdoor clothing. This impressive selection also includes a fantastic range of high-quality wading gear. In addition to reliable waders, wading jackets and wading boots, Patagonia offers a variety of practice-oriented backpacks and packs. As a co-founder of the "One Percent for the Planet" movement, Patagonia has been donating around 1% of its annual revenue to environmental organisations since 2002. By transferring the entire company shares, this inspiring brand set new standards in terms of sustainability. The "Earth is now our only shareholder" represented by the Patagonia Purpose Trust and the non-profit organisation Holdfast Collective. From now on, all profits – except for the money that is reinvested in the company – will be used to fight the environmental crisis and save the planet. In short: The high-quality products from Patagonia are always a great choice for environmentally conscious men and women who love fly fishing!