Article successfully added.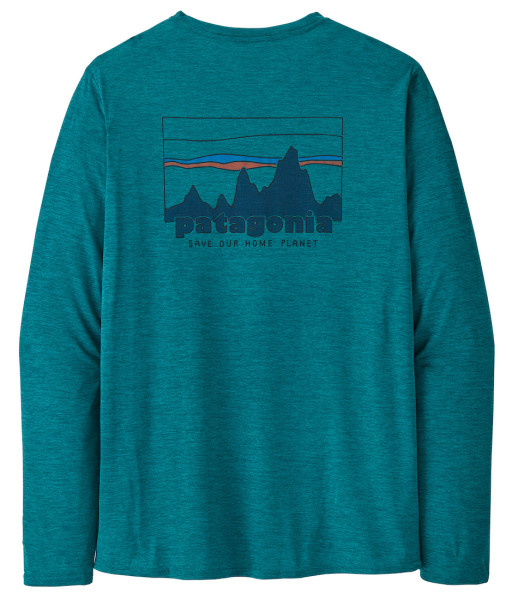 Patagonia M's L/S Cap Cool Daily Graphic Shirt SKBX
Patagonia M's L/S Cap Cool Daily Graphic Shirt SKBX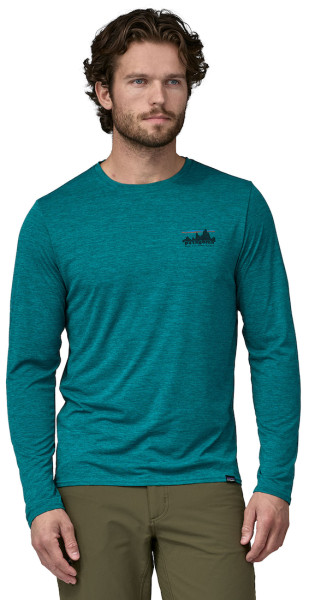 Patagonia M's L/S Cap Cool Daily Graphic Shirt SKBX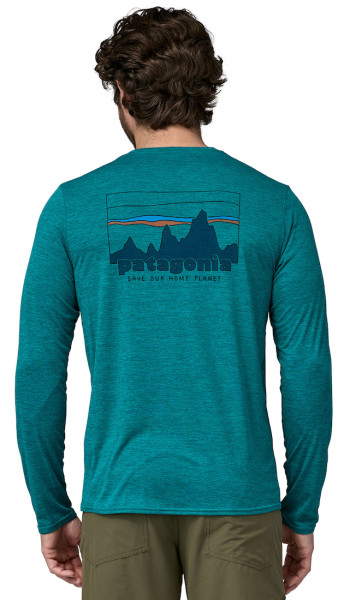 Patagonia M's L/S Cap Cool Daily Graphic Shirt SKBX
Patagonia M's L/S Cap Cool Daily Graphic Shirt SKBX
Patagonia's innovative Cap Cool series is based on a multifunctional performance fabric designed for the specific demands of water, travel and athletic activities: It offers a durable HeiQ® odor inhibitor - a thick bonus on long trips with a light pack! Made with 50-100% recycled content, these Tech Shirts from Patagonia offer comfort in all weather conditions, from cool days by the river to hot weather in the tropics.

The soft, quick-drying and stretchy Capilene® Cool Daily is perfect for all outdoor pursuits - not just fly fishing. It dries quickly, wicks away moisture, is elastic and offers an extremely high sun protection factor. Made from 100% recycled polyester, Capilene® Cool Daily is lightweight, soft and comfortable against the skin and has a clean design for a modern look. Details include: Raglan sleeves for comfort and free shoulder movement when throwing; MiDori® bioSoft, a plant-based agent that optimizes moisture wicking and keeps the fabric permanently soft; minimal seams for maximum skin comfort. Capilene® Cool Daily is also Fair Trade™ certified - like so many Patagonia products.
Cap Cool UPF sun protection
Patagonia's Cap Cool Collection also features UPF sun protection against UV rays, and protects us while fishing in the sun. However, the below UPF40 value of the Cap Cool series is not reported due to the strict regulation for personal protective equipment in the US. Only a value that is at UPF40 or higher is designated and certified as UPF sun protection. The Cap Cool series does't quite reach this value, but still protects us confidently when fishing under the hot sun.

Patagonia's Cap Cool Daily Graphic Shirt is a highly functional longsleeve for continuous use in a variety of outdoor activities. It's also so comfortable, we'd love to wear it every day.

Details:
Longsleeve made of soft material with UPF UV protection
Jersey made from 100% recycled polyester
Fair Trade™ certified fabrication
Raglan sleeves for optimal fit and mobility
Stretch fabric for maximum comfort during activities on land and in the water
MiDori® bioSoft for optimal moisture wicking and softness
Durable HeiQ® odor inhibitor
Material: 100% recycled polyester.
The material is bluesign™ certified.
Weight: approx. 153 g
Color: 73 Skyline Belay Blue x-Dye (SKBX)
About Patagonia:
Established back in 1973, Patagonia stands for sustainable and functional outdoor clothing. This impressive selection also includes a fantastic range of high-quality wading gear. In addition to reliable waders, wading jackets and wading boots, Patagonia offers a variety of practice-oriented backpacks and packs. As a co-founder of the "One Percent for the Planet" movement, Patagonia has been donating around 1% of its annual revenue to environmental organisations since 2002. By transferring the entire company shares, this inspiring brand set new standards in terms of sustainability. The "Earth is now our only shareholder" represented by the Patagonia Purpose Trust and the non-profit organisation Holdfast Collective. From now on, all profits – except for the money that is reinvested in the company – will be used to fight the environmental crisis and save the planet. In short: The high-quality products from Patagonia are always a great choice for environmentally conscious men and women who love fly fishing!