Article successfully added.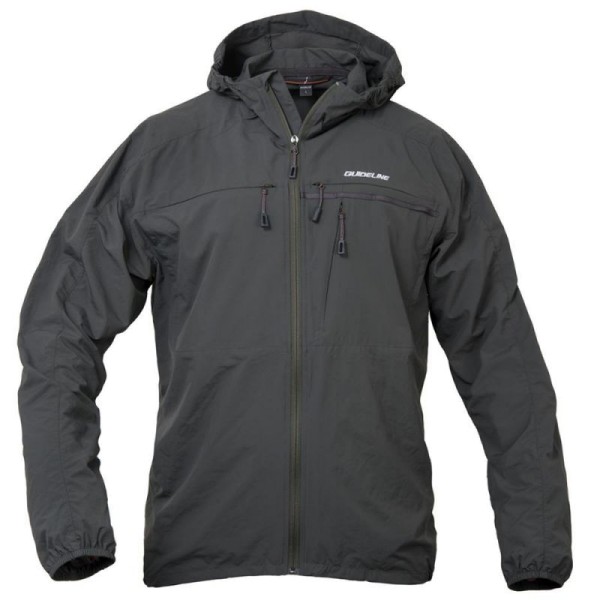 moss green
Guideline Alta Wind Jacket moss green
Regardless whether you are fishing for salmon, sea trout, pike or any other game fish in Europe or abroad - as anglers we are continuously exposed to the elements and more often than not we are facing windy rather than slack conditions. While choppy conditions are in most fisheries more favorable and productive than calm weather, wind still remains a straining variable which next to casting difficulties might cool us out.
Exactly for those conditions Guideline designed the very packable Alta jacket that weighs in at only 250 g and finds room in any backpack. So if need be the Alta jacket protects us from cool winds – especially in the early summer morning and evening hours extremely valuable. Due to the soft Nylon fabric the Alta windbreaker jacket is very comfortable even when worn directly on the skin. Additionally the durable Nylon fabric is quick-drying, mosquito proof and UV-resistant. The adjustable hood not only protects us from windy blows but also from annoying bug bites – who ever fished up north will appreciate that.
Further features of the Alta are three zippered front pockets that hold fly boxes and other accessories. Attachment points for nippers, zingers and forceps as well as a d-ring on the back hold your tools in handy reach for quick access. The elastic cuffs sit tightly and can easily be hitched up when landing fish or reaching into the water.
The Alta Jacket is the perfect addition to Guidelines functional clothing lineup – this versatile jacket is ideally suited for northern Scandinavian rivers, the Baltic coast and it will hold off a tropical rain shower on your next tarpon trip as well.
Packable wind jacket
UV-resistant and quick-drying Nylon fabric
Soft, comfortable feel
Adjustable hood
D-ring for landing net mounting
3 zippered front pockets
Material: 100% Nylon
Weight: 250 g (size L)
Color: Moss green