Article successfully added.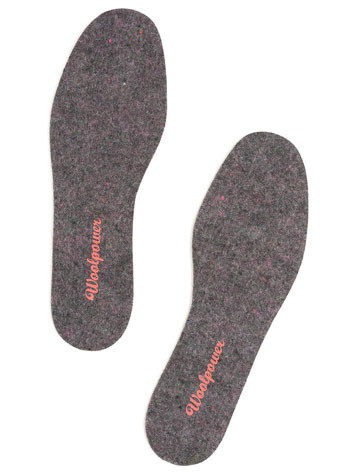 Woolpower Felt Insoles recycle grey
Woolpower Felt Insoles recycle grey
The Woolpower Felt Insoles are made 100% of production waste from the high-quality Woolpower garments. Therefore, their colour can vary depending on the recycled products. They consist of minimum 50% wool, which makes them very warm. Thus, they are absolutely great for the cold season. And since they are very moisture-wicking they improve the wearing comfort of most shoes – whether hiking boots, rubber boots or house shoes!
Details:
High-quality felt insoles for all kinds of shoes
Made of recycled material
Moisture-wicking
Thickness: 5 mm
Material: minimum 50% wool, maximum 50% synthetic materials
Colour: recycle grey – can vary depending on the recycled products
About Woolpower:
Die Firma Woolpower aus Schweden ist weltweit bekannt für warme Unterbekleidung. Bereits seit 1969 werden Unterwäsche, Socken und Accessoires in Östersund aus hochwertigsten Materialien und mit eigenen Webtechnologien hergestellt. Vom Garn bis hin zur fertigen Socken legen die Schweden dabei höchsten Wert auf Nachhaltigkeit und faire Produktionsprozesse. Die Woolpower Insulation Scala gibt Auskunft über die Wärmeleistung des jeweiligen Produktes: Lite - 200 - 400 - 600 - 800. Von leichter Unterbekleidung für die Fischerei bei mäßigen Temperaturen bis hin zu extra warmen Socken für extremste Bedingungen findest du hier das passende Produkt.