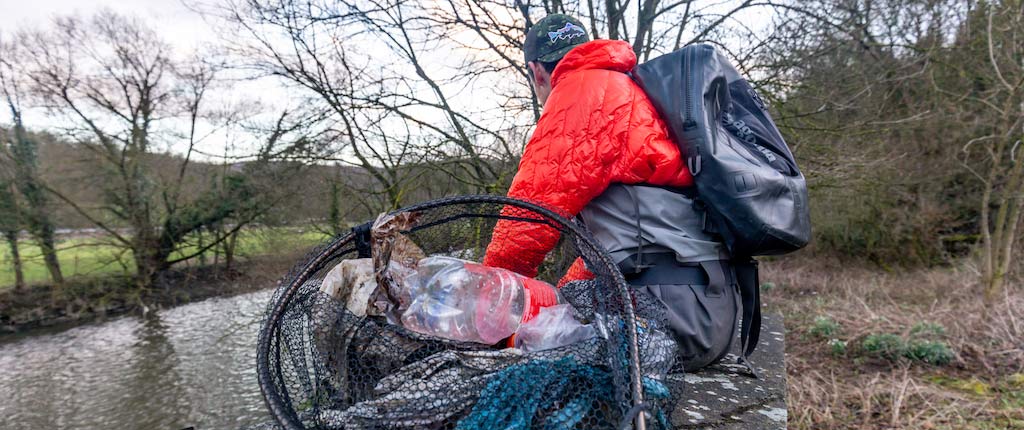 Go Fishing - Collect Trash - Win Patagonia Danner Boots!
March holds for many fly fishers one of the biggest highlights of the year: Trout season opening. Finally we can head back to the river! Early in the season rivers look dreary and it will take some time until the riverbank vegetation is back in full bloom and we can wet our lines in the green tunnel again. Until then, it's particularly noticeable that many banks are polluted and lined with garbage. Floods have "decorated" trees with plastic bags over the winter and plastic bottles circle patiently in sweeping currents. As passionate fly fishers, we want to set a signal here! This is why we started the campaign 'One-Per-Day' in cooperation with Patagonia: Collect one bag of trash per fishing day. And if you don't have a bag at hand? There's always your landing net to use. What is common on the Baltic Coast for some years already ('Plastic in the Basket') is possible on rivers too.
Launching this campaign we give away three prices on our Facebook page:
Price: One pair of Patagonia Danner Boots (full info about these handmade wading boots)
Price: One pair of Patagonia Middlefork Packable Waders
Price: A Patagonia Wader Work Station
Participating is easy: Go fishing, collect a bag of trash and post a picture as a comment under our post on Facebook. Among all the photo comments, we are giving away the three prizes on Monday, April 8th. And of course you will find all the pictures handed in here on adh-world later too. If you don't have a Facebook account you can send us your picture via mail too: info@adh-fishing.de


Enjoy your season opening!