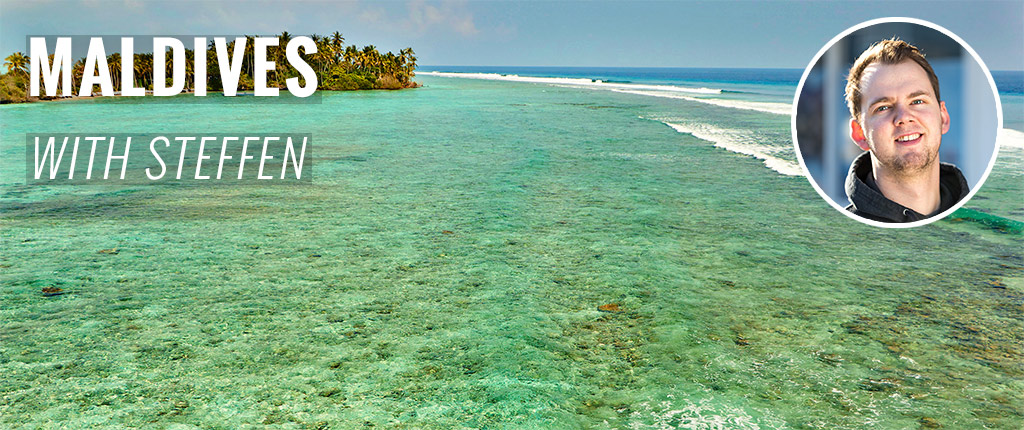 "The Maldives are one of the last easy to reach GT destinations with a reasonable price-performance-ration. The youngest operation in the GETAWAY program offers a huge playground for ambitious fly fishers and the chance to cross several salt water species from the bucket list. Besides Giant Trevally we will see Bluefins, Triggerfish and many other on the endless flats and reefs. I am looking forward to accompanying you on this special saltwater trip in February 2020!" (Steffen)
The Maldives consists of 1190 islands grouped in 26 atolls, all of which are situated atop a submarine ridge that runs 960 kilometres from north to south. With one of the richest marine ecosystems anywhere in the world, it is truely a fly fisherman's dream.

These shallow waters are prime habitat for many differenc species that can be targeted with a fly: Yellow Margin Triggerfish, Red Snappers, Bluefin Trevallies and: GTs. Giant Trevallies indeed live up to their name. Imagine fish up to 20, 30 or 40 kilos appearing on sand flats that are only a few feet deep. Be ready for an extraordinary adrenalin rush when you present your black & purple streamer to these maniacs patroling close to you!

GT fishing on the Maldives is the youngest addition to the GETAWAY FLY FISHING operations and was introduced to the public first in end of 2018. The passionate fly fishers at GETAWAY have been working very hard on this program for a long, long time – but the result has been worth waiting for: Fly fishing in saltwater for a lower price than almost anywhere else, with the chance of hooking a bigger fish than almost everywhere else.

If Speedboat, dedicated crew, easy and efficient logistics and an intro-price that beats everything else out there sounds good to you: This might be the perfect trip for you in early 2020.
adh-fishing Hosted Trip: Maldives

February 19th - February 28th 2019 (max. 5 fly fishers)
19. February: Departure Europe.
20. February: Arrival Male and transfer to chosen atoll.
21.-26. February: Six full days of fishing.
27. February: Last day of fishing and evening flight home.
28. February: Arrival in Europe.
Rate: from 3350 US$ (double room, fullboard)


Not included:
Flight to Male
Gratuities
Alcohol
BOOKING:
We are happy to receive your inquiries and to help you with any questions regarding this trip. We will convey your specific booking request to the tour operator GETAWAY FLY FISHING and support you on all steps, from the contract processing to the perfect tackle composition for your trip with us.
---
Getaway Fly Fishing is a part of Getaway Tours. The company is based in Denmark and has been sending anglers to exciting destinations across the globe since 2001. In 2015, Getaway Tours was divided into Getaway Sea Angling and Getaway Fly Fishing. Getaway Tours serves as booking office for both companies. All Getaway Fly Fishing clients are covered by membership (member no. 2907) of The Danish Travel Guarantee Fund.


"At Getaway Fly Fishing, we feel that the destinations we offer are some of the most attractive packages in the fly fishing travel industry today. They all have a certain level of uniqueness; low fishing pressure, amazing scenery and great fly fishing at value-for-money prices.
By focusing on relatively few destinations we are in a position to be deeply involved in each operation; suggesting adjustments or improvement where needed so we end up with the best possible product for our clients. These are the actual trips we would choose ourselves when going after bonefish, GT, arctic char, steelhead, king salmon or tarpon. They are simply our Favorite Getaways."