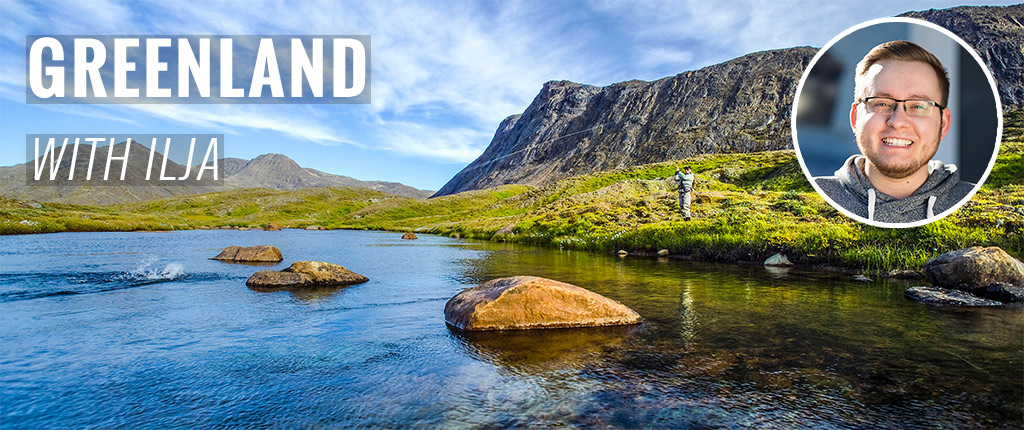 "Wild rivers full of fish in midden of fascinating landscapes – without the negative influences of today's society. Here, a dream comes true for any passionate fly fisher! Greenland offers everything you can ask for and Camp North is the best address for chasing big Arctic Char with the fly. Fish up to 8kg have been caught here in the past! I just can't wait to wake up here." (Ilja)
If you are up for your first trip to Greenland, Getaway Fly Fishing and our host will be happy to take you to some of the most special places. Rivers far away from any civilization, rivers that will offer you a journey back in time. These rivers still have big Arctic Char returning by the thousands during the summer months, like they have done for thousands of years, from before the first humans found a passage to the world's biggest island almost 5000 years ago.

Imagine a river that hasn't seen the negative effects of human interference. No pollution, no netting, no dams or destruction of habitat. Just thousands and thousands of fish returning to the river for their annual spawning migration and winter home, fat and feisty after months of feeding hard on the cold sea's abundance of food.

With more than ten years of experience and extensive research in Greenland GETAWAY FLY FISHING know that they fish the best rivers. Most rivers in Greenland are too small, too coloured or hasn't big enough fish to offer great fly fishing – but those few rivers that are an exception to this rule… well, it's mind blowing! They have picked out three rivers that offers what they want in great fly fishing: Big fish and plenty of gin-clear water to fish for a week. These are the three rivers where they have built their famous char camps: Camp Erfalik (Trip with Ralf in 2019) and Camp North (trip with Ilja in 2020).

If you're into numbers we don't know of anywhere it the world that is in the same league. And for size? The biggest char that GETAWAY FLY FISHING and their clients have had a chance to weigh was a staggering 8,3 kilos! And guests have seen, and possible even caught, bigger fish than that.

You know they often tell you: "You should have been here yesterday". And when you hear stories from times gone by, it's not even yesterday you missed – instead, you should have been there twenty, thirty or even fifty years ago. In Greenland, yesterday is today and thirty years ago is now. It doesn't get any better than this: The fishing in Greenland has never – and won't ever be better!
adh-fishing Hosted Trip: Greenland (Camp North)

July 14th - July 23rd 2020 (max. 10 fly fishers)
Day 1: Arrival in Copenhagen, stay at hotel (optional)
Day 2: Morning flight to Sisimiut via Kangerlussuaq, transfer to Hotel Sisimiut,
afternoon sight seeing in town or relax at the hotel
Day 3: Boat transfer to camp, fishing the rest of the day
Day 4-8: Five days (and nights) of fishing
Day 9: Boat transfer to Hotel Sisimiut, farewell dinner
Day 10: Morning flight back to Copenhagen
Rate: 3875€ (250€ for concession and fishing license)


Not included:
Flights to Copenhagen
Hotel in Copenhangen
Gratuities
Alcohol
BOOKING:
We are happy to receive your inquiries and to help you with any questions regarding this trip. We will convey your specific booking request to the tour operator GETAWAY FLY FISHING and support you on all steps, from the contract processing to the perfect tackle composition for your trip with us.
---
Getaway Fly Fishing is a part of Getaway Tours. The company is based in Denmark and has been sending anglers to exciting destinations across the globe since 2001. In 2015, Getaway Tours was divided into Getaway Sea Angling and Getaway Fly Fishing. Getaway Tours serves as booking office for both companies. All Getaway Fly Fishing clients are covered by membership (member no. 2907) of The Danish Travel Guarantee Fund.


"At Getaway Fly Fishing, we feel that the destinations we offer are some of the most attractive packages in the fly fishing travel industry today. They all have a certain level of uniqueness; low fishing pressure, amazing scenery and great fly fishing at value-for-money prices.
By focusing on relatively few destinations we are in a position to be deeply involved in each operation; suggesting adjustments or improvement where needed so we end up with the best possible product for our clients. These are the actual trips we would choose ourselves when going after bonefish, GT, arctic char, steelhead, king salmon or tarpon. They are simply our Favorite Getaways."