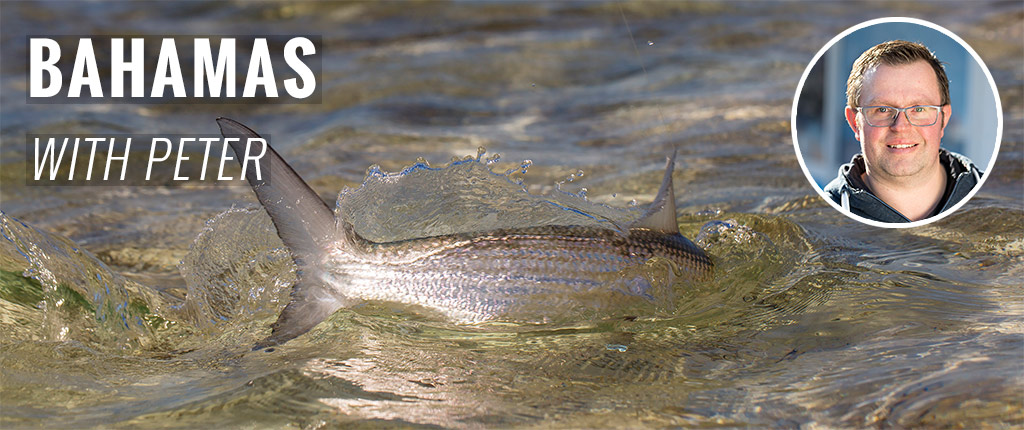 "The Bahamas have a long fishing tradition and are still today one of the best destinations in the Caribbean. Imagine: Endless flats and big schools of Bonefish searching for Shrimp in skinny water. To catch a tailing Bonefish on sight here is part of every saltwater angler's dream. But I'm also looking forward to present our flies to Barracudas and other predatory species." (Peter)
The thing we love about bonefish is wading and stalking them on beautiful flats. On our own. With only ourselves setting the pace. Choosing our own flies and enjoying the moment, when we spot a school or a single bonefish. Hopefully before the fish sees us. Calculating the path of the fish and presenting the fly, when we think the time is right – and then gently setting the hook is a great feeling. Of course, the long runs are pretty cool, too.

Unfortunately, very few places on the planet offer this scenario. It's easy to find lovely bonefish destinations but most of them require a boat and a guide – just to get you to the fish. We do know of a few accessible bonefish spots but they seem to have gotten way too much attention – the result being shy and spooky bonefish.

Good bonefishing on your own – at a fair budget – have turned into the fishing of dreams and for years, the vivid guys at GET AWAY FLY FISHING have been dreaming of the perfect bonefish trip for those wanting to stalk the shallows for bones on their own. However, while searching for perfect bonefish flats, one place has always reclaimed their attention. Acklins Island in the Bahamas. Only recently they finally convinced their partners in the Bahamas to set up such an European program; exactly the way GETAWAY and their clients have always dreamed of: Long days – fishing different areas every day at an own pace.

They have designed what they believe is the perfect bonefish program for European fly anglers. The surroundings are stunning and Acklins Island has more great bonefish habitat than anywhere else these guys have fished. Tailing fish in ankle deep water, on white sand flats and in the mangroves – and most importantly, you can wade and stalk them yourself. Bonefishing doesn't get any better than this.

On these bonefish trips the novice bonefish angler will find himself in a relaxed environment and he will enjoy the company and knowledge of experienced tour leaders and fellow anglers. The skilled bonefish angler will definitely appreciate the opportunity of spending extra hours on the flats. Feel like going? We do!
adh-fishing Hosted Trip: Bahamas (Acklins)

November 17th - November 26th 2020 (max. 7 fly fishers)
Day 1: Arrival in Nassau, stay at hotel
Day 2: Morning flight to Acklins, transfer to the Grey's Point Inn, lunch, rig up tackle and hit the nearby flats for an afternoon's worth of fishing
Day 3-8: Six full days of fishing
Day 9: Transfer to the airport for your flight back to Nassau and onwards to your final destination
Rate: 2300 US$


Not included:
Flight to Nassau
Hotel in Nassau
Gratuities
Guided fishing days (optional)
Alcohol
Fishing license ($20 per person)
BOOKING:
We are happy to receive your inquiries and to help you with any questions regarding this trip. We will convey your specific booking request to the tour operator GETAWAY FLY FISHING and support you on all steps, from the contract processing to the perfect tackle composition for your trip with us.
---
Getaway Fly Fishing is a part of Getaway Tours. The company is based in Denmark and has been sending anglers to exciting destinations across the globe since 2001. In 2015, Getaway Tours was divided into Getaway Sea Angling and Getaway Fly Fishing. Getaway Tours serves as booking office for both companies. All Getaway Fly Fishing clients are covered by membership (member no. 2907) of The Danish Travel Guarantee Fund.


"At Getaway Fly Fishing, we feel that the destinations we offer are some of the most attractive packages in the fly fishing travel industry today. They all have a certain level of uniqueness; low fishing pressure, amazing scenery and great fly fishing at value-for-money prices.
By focusing on relatively few destinations we are in a position to be deeply involved in each operation; suggesting adjustments or improvement where needed so we end up with the best possible product for our clients. These are the actual trips we would choose ourselves when going after bonefish, GT, arctic char, steelhead, king salmon or tarpon. They are simply our Favorite Getaways."