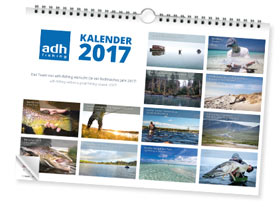 Fly fishing is our one true passion. There's no day our minds aren't dragged to the water for a short while, no day we don't think about experiences made or trips to come.
For christmas we want to make a gift that'll help you in 2017 to go on such a journey: Our fly fishing calender! With 12 photos from various fly fishing destinations it'll accompany you through the year and will remind you every month, that there are beautiful fish to catch and lots of adventures out there waiting for you.
The fly fishing calendar for 2017 comes with all orders of €50 and more. You don't need to enter a code oder bonus. All you have to do is create some space on your wall :)
We wish you a nice advent season and a great fishing year 2017!