Fly fishing has developed rapidly in the last decades. Not so long ago, fly fishing was quite naturally equated with presenting a dry fly to a rising brown trout. This looks different today! There are almost infinite facets of fly fishing and there is hardly a fish in the world that cannot be outwitted by the fly. This is due not only to the further development of flying lines and fly rods but also to the influence of conventional fishing techniques. Above all, spin fishing has left its clear traces and today, fly fishing for predators is also done with actively moving artificial lures. These so-called "streamers" imitate prey fish in the narrower sense of the term, which in our native waters are pike, zander, perch or even trout as a source of food. However, while the former go on a predatory expedition at a young age, trout concentrate primarily on feeding insects on the bottom and surface in the first few years and only later develop predatory traits and make terretorial demands. The larger a trout grows, the more pronounced this character becomes. Of course also because a large bite has an attractive energy balance.

Streamer fishing therefore offers the possibility of catching a large trout in a targeted manner and deliberately ignoring smaller specimens. Quality before quantity, if you like. However, this is in contrast to the classic methods with dry fly and nymph, where potential trout of all ages can be caught. Streamer fishing also has a second advantage: in contrast to the precise presentation of dry fly and nymph and the fishing of short, exact drifts, a streamer can be used to search large areas of water in a short time.

The choice of the right streamer depends a little on the water, but we should not forget that large trout are serious predators. Therefore, it does not hurt to choose a streamer one size bigger than the fish the trout hunt. So we can confidently take our inspiration from fly patterns from sea trout and steelhead fishing. Large, articulated Leeches, Intruders with Stinger hooks or a Zonker of the XXL version should not deter you. Most anglers throw the standard black Woolly Bugger in #4-8 into the stream and it's always worth a try to break this pattern. After all, the trout always have to make the decision whether to swim for a bite, or to stay at their habitat in an energy-saving way to have smaller food (larvae, freshwater flea crabs, worms, etc.) drifted into their mouth. We can influence this decision immensely with our choice of flies, and often large fish can be moved with a larger streamer at least from their resting place. And that is already a success!
Streamers like these are very well suited for large brown trout:
Black is beautiful! A black streamer with zonker skin is the first choice for most situations. It is important to have a weight in the head area, because this way it reaches depth faster. It also gives the streamer a great jig movement. A few flash threads often make the difference in turbid water.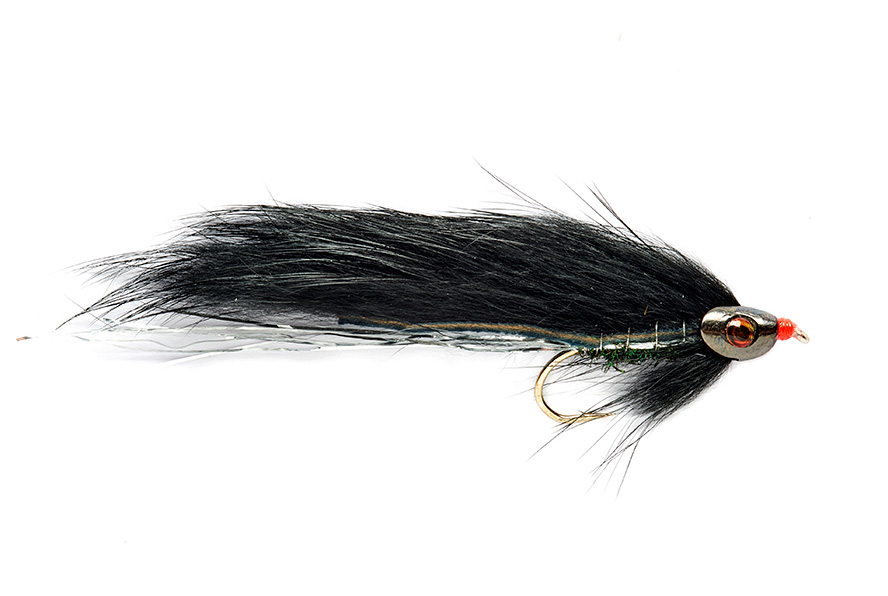 A modern version of the classic Wooly Bugger - for many fly fishermen the most effective pattern on trout. A tail of soft marabou that plays in the current and a pulsating body hackle for a big silhouette. The olive colour is a good alternative on days with clear water and shy fish. Otherwise: Black is Beautiful!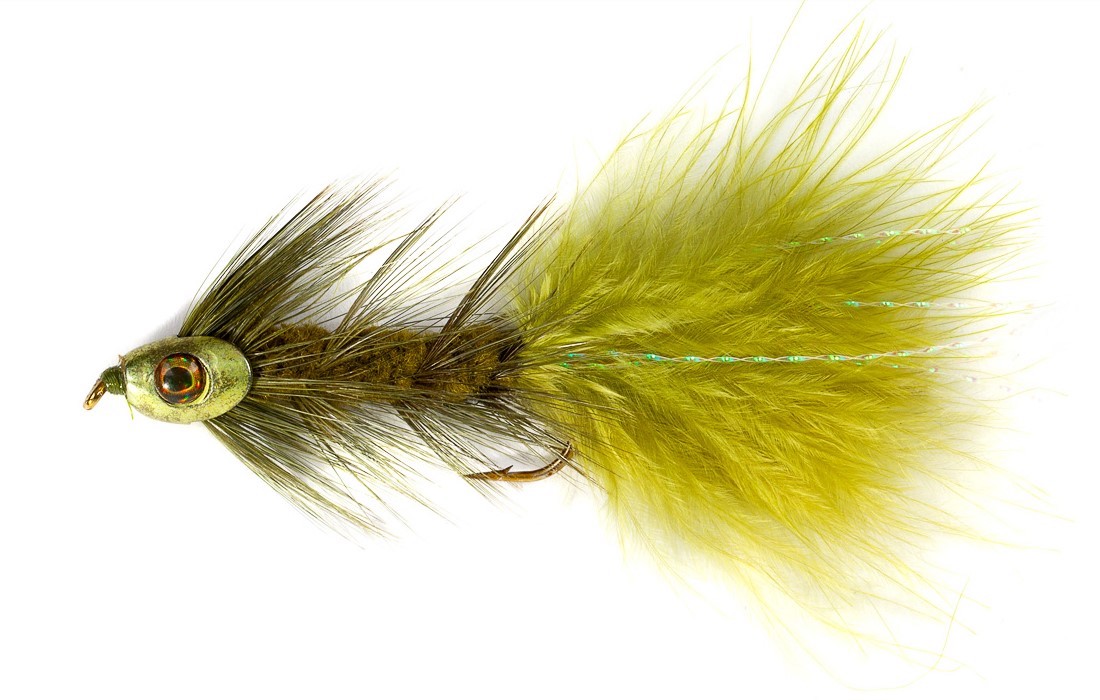 Sculpin streamers are primarily offered at the bottom. Moved very slowly along the bottom structure this streamer can be very catchy! In order for the streamer to reach the bottom, it is heavily weighted. It can also be presented in Dead Drift - more similar to a nymph. The colour is chosen according to the water colour. Bright day and clear water require a lighter pattern. And vice versa!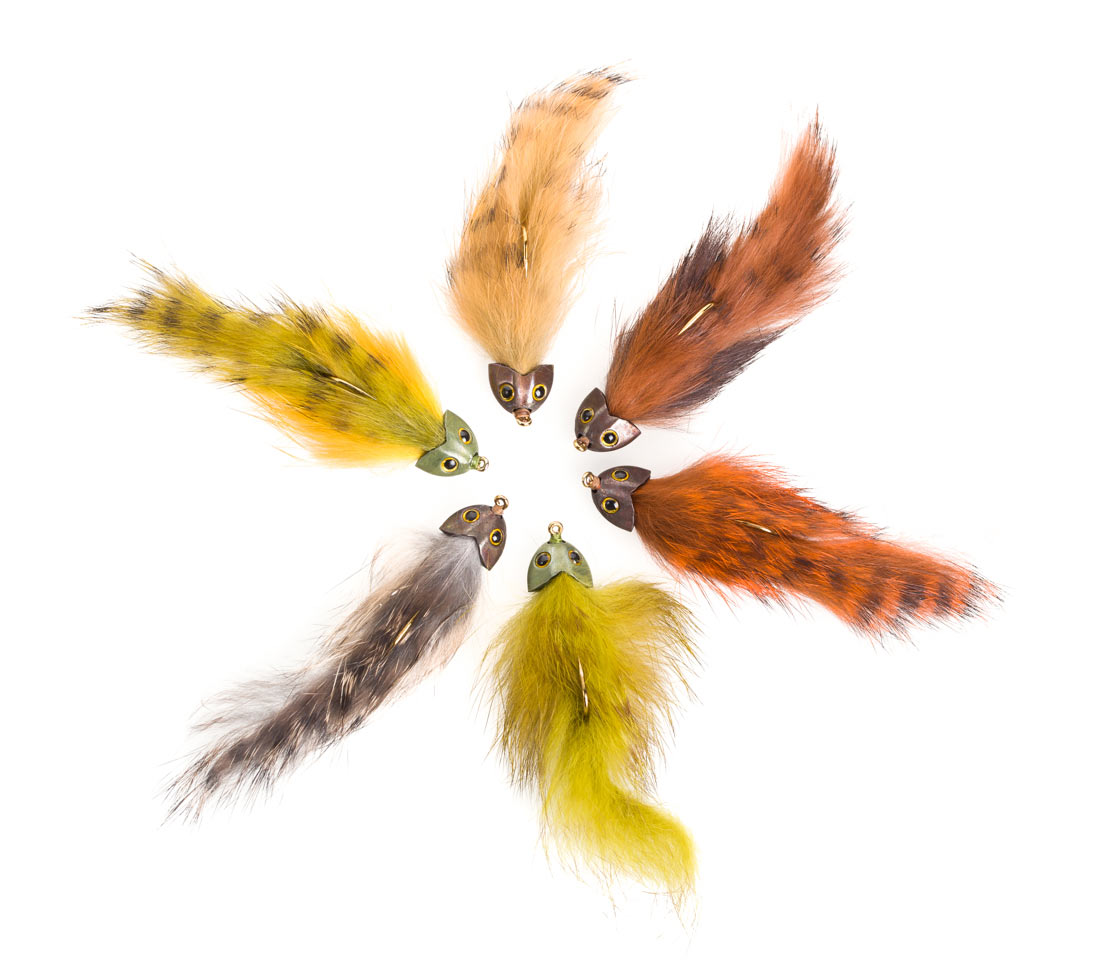 Coneheads are an alternative weighting to classical beads. The best choice is to use heads made of tungsten. This material has a much higher mass than brass. So more weight can be packed on the same diameter. Coneheads between 3mm and 5.5mm are used, depending on the water level. As with this pattern, fine, long dubbing can be incorporated into the loop as an alternative to a classic body hackle (Wooly Bugger). Don't forget: Brush out very vigorously!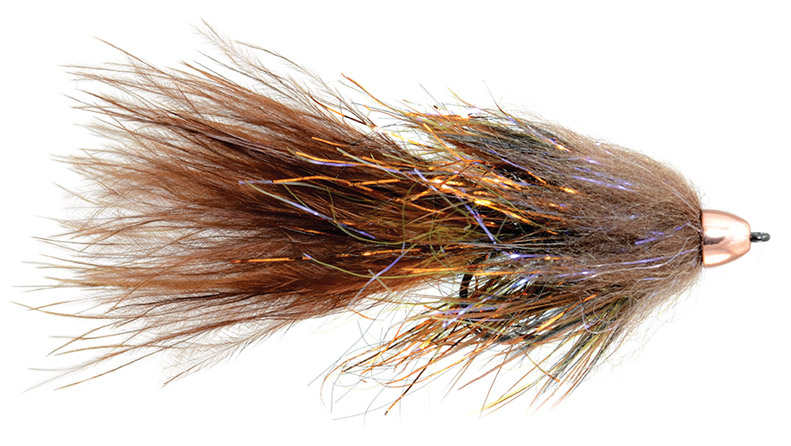 Deer hair is not only used for dry flies, but is also used for streamers. Quite classical with muddlers. Stiff deer hair displaces water and thereby creates a pressure wave which is felt by the fish. It also creates a larger silhouette. But: Deer hair floats up! If you do not want your streamer to run just below the surface, you should use a tungsten bead or a sinking tip.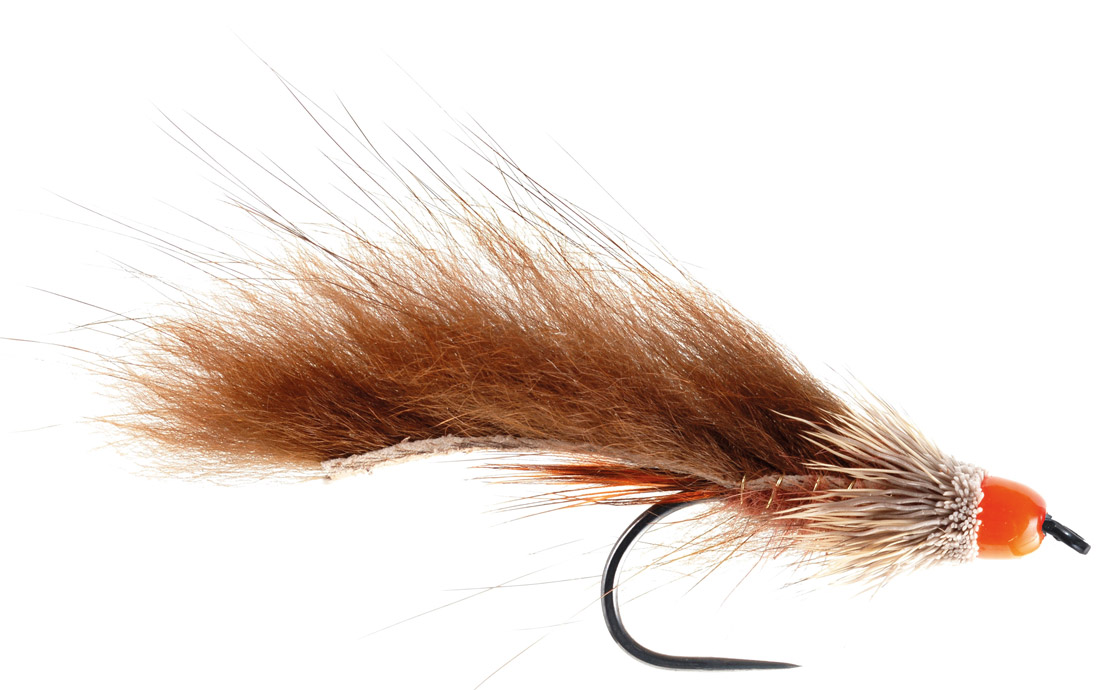 Dumbbell eyes are an alternative weighting to normal tungsten beads, cone heads, fish masks or sculpin heads. Due to the special arrangement on the hook leg (best by eight-winding) the streamer floats upside-down, i.e. with the hook tip pointing upwards. This reduces the danger of hangers. Rubber Legs can add an additional attraction to flash and other materials and are very popular for modern fly tying. Especially on sea trout in the river!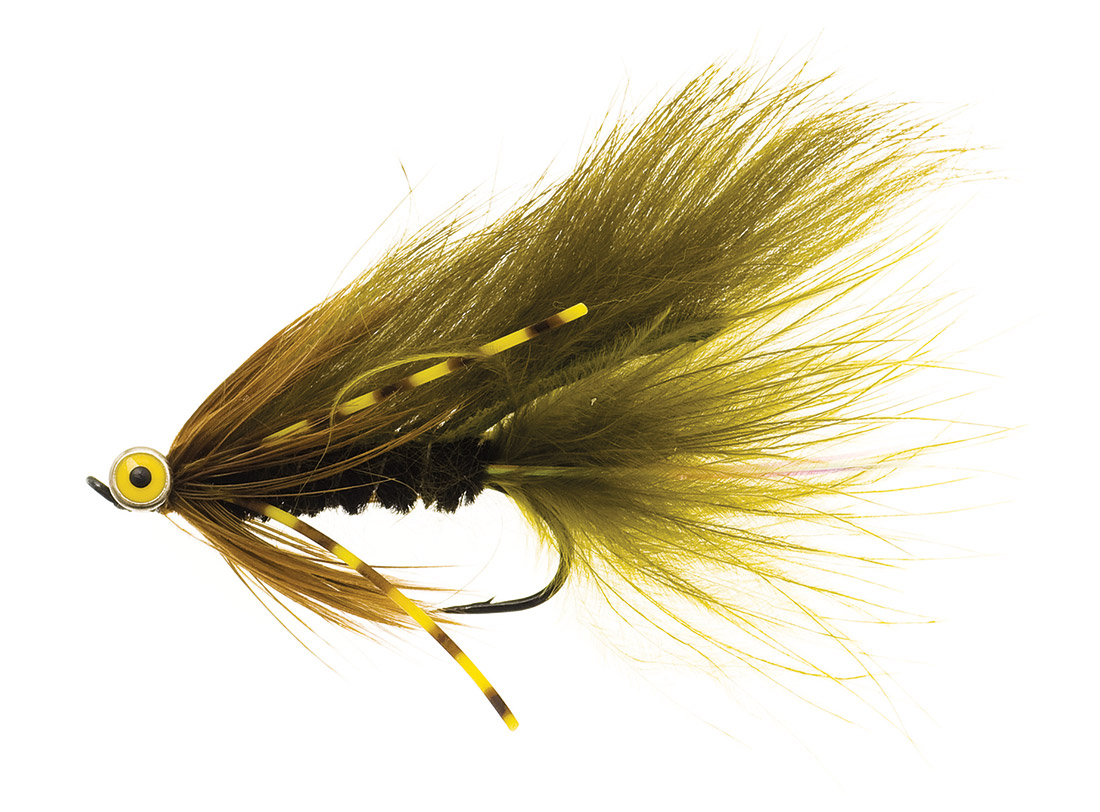 Streamers with free swinging hooks are well known when fishing for Pacific salmon, steelheads and sea trout in the river (for example in the south of Argentina). However, a so-called stinger hook also has a great advantage in domestic fishing. On the one hand the streamer has more action and on the other hand even careful bites from behind are often still utilized. There are no limits in the choice of colours. The classic colours are bright tones, while black, brown and olive are more suitable for trout fishing.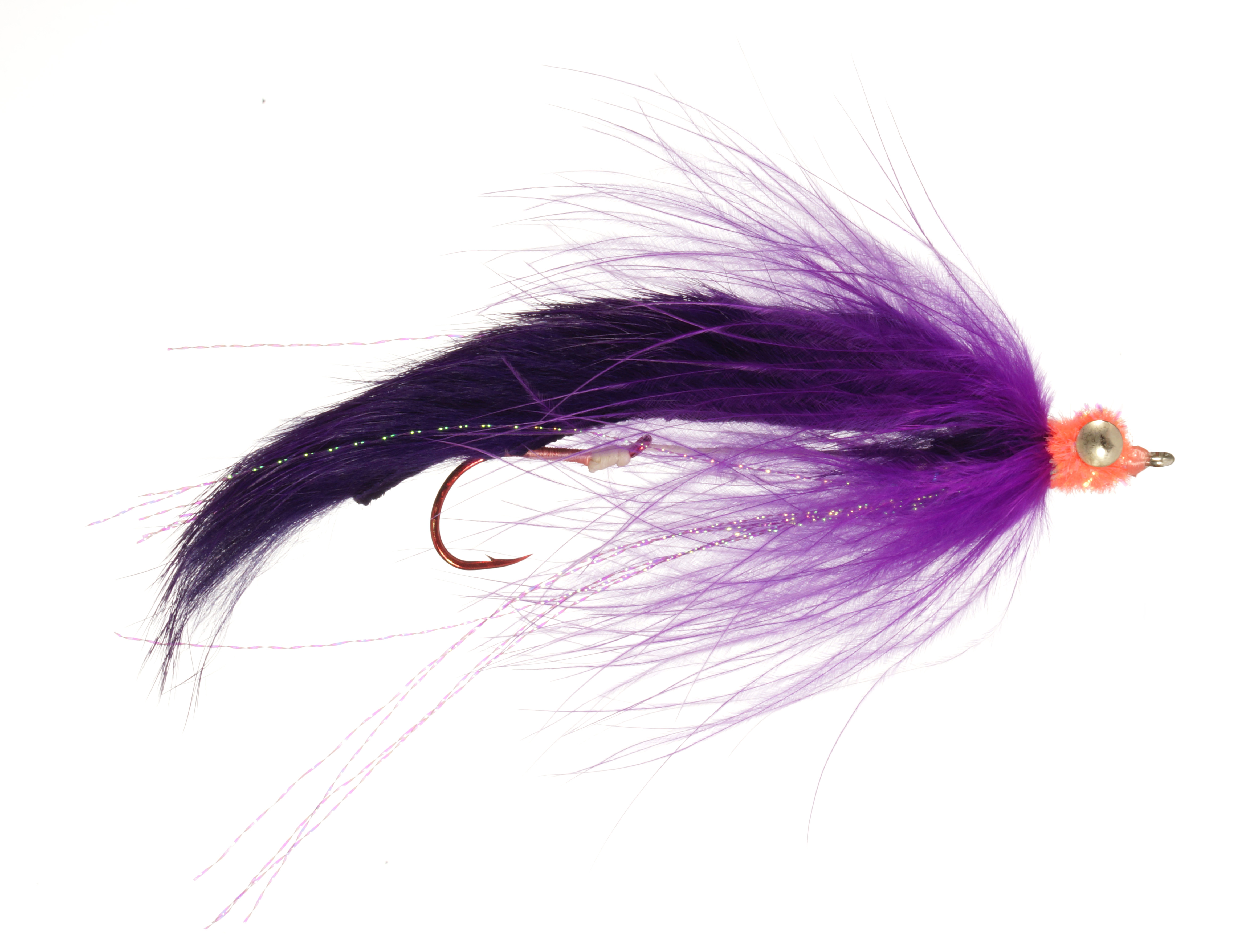 Mice! Not only in one mouse year in New Zealand the imitation of a small mouse can lead to success and spectacular attacks. A mouse (usually tied from deer hair) presented on a floating line downstream and furrowed over the surface has already moved many a large Trout out of its shelter on domestic rivers. Especially in the evening hours this technique can be very exciting. Fishing here is like with a skating caddis. A cast to the other bank and tension on the line. The current does the rest for us. And very important: Stay cool and don't set the hook too early!
Depending on the size/weight of the streamer, the choice of a suitable leader for streamer fishing also depends on the visibility of the water. An untapered leader helps us to present a slightly winged or weighted fly stretched out. If we fish a line with a sink tip, we should choose a much shorter leader (1 - 1.5 m is often sufficient here). However, if we want to bring a weighted fly to depth on a floating line, the leader should be chosen slightly longer, as the floating line always presses the fly to the surface of the water in the current. But when casting we will reach our limits with this approach. Between these two extreme cases we certainly have a lot of leeway, also concerning the diameter of the leader. If a large streamer is fished in turbid water, the length and diameter of the leader are almost irrelevant as far as the effect of spooking the fish is concerned. An untapered 4 - 5 ft. leader of 0.25-0.30 mm on a short sink tip is a good standard recipe for most scenarios where the water is cloudy. Smaller streamers in clear water will of course have to be a bit more delicate and our leader can be much closer to our 'normal' trout leader - a bit longer and thinner, which can also be tapered on very small/light streamers (small Woolly Bugger).

Targeted streaming on big trout on the river is not always and everywhere possible. Under the right conditions and with the right patterns, however, it's a great addition to classic dry and nymph fishing. Tight Lines and have fun with the Streamer!