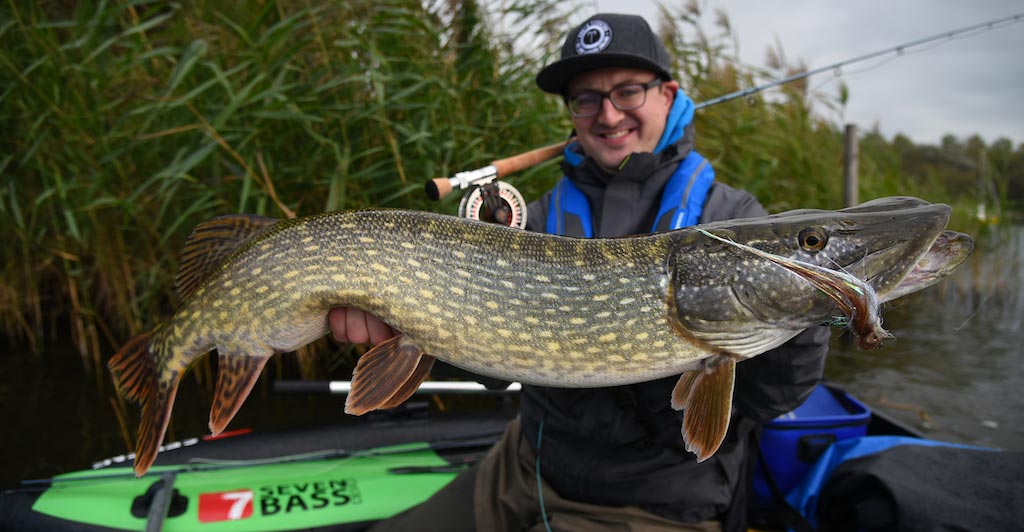 For most fly fishers, pike is number one among the different predators in our home waters. This is hardly surprising, as pike can be found almost everywhere in Germany and Europe and you can find Esox lucius in a wide variety of different waters. We talked to Steffen Schulz about the boom in pike fishing and asked the predator fish enthusiast for his personal tips & tricks. The next two parts of this interview are about perch and zander. Enjoy reading.
adh-fishing: Hi Steffen! If you follow your Instagram channel (steffen_schulz_flyfish) or your website, you will soon realize that predatory fish are your absolute passion. Especially our native predators pike, perch and zander have obviously taken a liking to you. Where does this passion for predatory fish come from?
Steffen Schulz: Hello! In my youth as a kid living in Berlin, who was integrated in a Brandenburg fishing club, I was doomed to speck at the sport fishermen of Krummensee. Predatory fishing was only allowed from the age of 14. The magic around the predatory fish was thus only stirred up even more. After the first catches I was totally fascinated by the artificial bait fishing. The fact is: To catch big predators, no matter which one, is really hard. That's the attraction.
adh-fishing: Many of your subscribers know you as an author for various fishing magazines, for which you wrote long before your time as a fly fisherman. How did you come to fly fishing and what is its significance today compared to spin fishing?
Steffen Schulz: Today I only fish with a fly rod, yes, that's right. When jigging, twitching etc. I have no feeling anymore and the fun is totally gone. Let's see for how long. Fly fishing is so incredibly simple in the end. Rod, line, any reel, leader, two or three streamers, that's all I use all year round for our predatory fish, done. The worst thing is, once the fly is with the fish, it is almost always superior to any artificial bait. Fly fishing, as funny as it sounds, is also a question of attitude. You are more limited as far as places are concerned (for example, wind from the front when shore fishing etc.), but I still go for it as a fly fisherman because it's just fun to fish with the fly rod.
adh-fishing: In the early years, spin fishing had a strong influence on fly fishing for pike. Today there are also influences in the other direction. How do you see this development?
Steffen Schulz: I like to smile at my buddies who hang a streamer on their Chebu- or C-Rig, or buy special flies for spin fishing. They do catch fish, no question. But against a fly fisherman with a streamer they stink in the end anyway. I promise.
adh-fishing: Where do you see the advantages of fly fishing, especially when fishing for pike, perch and zander?
Steffen Schulz: Clearly, with the slow presentation. Big fish love slow baits and almost always do. Nothing is quieter and slower than a streamer. Okay, a Dead Baitfish of course. With a streamer you are soundless and long at the spot and at the fish. The predators love that. Besides, the one who fishes with the Streamer gets to know his fishing spots very well. Fast fishing is not possible anyway, so you fish concentrated at your spot.
adh-fishing: You fish a lot from the Bellyboat. What is the special attraction for you here and what do you recommend to someone who wants to buy his first bellyboat?
Steffen Schulz: I even sold my "real" fishing boat when I started fly fishing. That's because I can only position myself from the belly-boat with millimetre precision at the spot, an edge for example, and I can fish this structure very cleanly. Nothing drifts, I have full control over the spot and my streamer. My tip: Buy a model with oars or invest in a motor. Especially if you want to fish on larger waters. ONLY paddling is annoying. Make it easier for you. If you already have spots and smaller waters, you can use any belly boat. Good fins are important, it saves power. Apart from that I would look for inflatable seats, they are much more comfortable and the seat never deforms. PVC bellys are also better, safer and dry faster in my opinion. For example from Seven Bass.
adh-fishing: The pike is the most interesting domestic predator for many - perhaps also because it grows particularly large. Special equipment is needed here. What do you use personally?
Steffen Schulz: In the beginning I always fished 10-weight rods. In the meantime I only use #8 saltwater rods. Light, slim and powerful. That's enough for me, because I personally don't fish wiggletail flies or huge streamers anyway and rarely have to fight with obstacles or weed. If you want to catch only one giant pike, you should use flies from 20 cm and fish a #9 to #10 rod. A #9 is probably the allround rod today.
adh-fishing: What does your personal setup look like at the moment?
Steffen Schulz: Currently I prefer to fish a Hardy Zephrus SWS #8 or Hardy HBX #8 in combination with a 7000 MTX-S. As far as lines are concerned, I like two brands: Cortland and Vision. From Cortland I like to use the Compact Sink Type 3, the ideal allround line for me! From Vision I like the Grand Daddy Sink4 and Sink7 very much. If you want it to go a little deeper.
adh-fishing: Also the leader is special for pike fishing. Can you tell us about your favorite?
Steffen Schulz: As a leader I like to use 0.80 FC from Stroft, it holds great and doesn't break suddenly when throwing it. I take around 50cm and knot it to 0.40 or 50 Fluo. I personally never squeeze anything, everything is knotted. But you have to shorten the leader immediately, if it has a cut. My buddy Bertus Rozemeijer swears by this setup for years. Trust him on this one. With many pike contacts (like on the island of Rügen) I like to use 10kg and 14kg of Stroft Niti Polywire. Can also be knotted very well! And here you are 100% protected from the sharp teeth.
adh-fishing: Many fly fishers tie their own pike streamers. You also like to fall back on samples from well-known manufacturers. Can you tell us some of your favourites?
Steffen Schulz: First of all: I would like to tie flies, I have all the materials from your shop to get started. But: no time! At home it's just family time, even in the evenings. I prefer fishing to tying. When the kids grow up, I'll be sure to tie my own flies. But back to the question. For pike: Pike Terror Flies black and gold. THE KILLER, no streamer is better in my eyes. The biggest version of Fulling Mill's Salty Baitfish in the three decors is also unbeatable, especially when the Pikes eat smaller roaches. I have had very good experiences with this recently.
adh-fishing: Pike occur in various waters - canals, lakes, rivers, reservoirs etc. Which waters do you prefer and what are your tactics for each type of water?
Steffen Schulz: Reservoirs are diffictuly, bitchy waters for pike with a fly rod - but I love them. This is where I prefer to fish extensive shallow water areas in spring, close to very deep water. Most of the time "land noses". I avoid channels, I just don't like them and they are also mostly the less good pike waters. Who knows a good channel, please write me :) ! Most of the time I fish for pike at Dutch lakes or at the Bodden (Island of Rügen). I admit that I fish for pike almost exclusively on edges to deep water. Also at the Bodden I concentrate on areas where deep water is near. I believe that deep water plus structures and big pike often go hand in hand. Exactly this is the perfect playground for belly boat fly fishermen. You cast from deep water or you can stand parallel and fish them out clean. This works excellently in Holland all year round. At reservoirs it's completely different, because here the pike all move to open water after spawning. At least the big fish. Fishing them there is extremely tough and time-consuming, depending on the waters. For this fishing you need a fly line with Sink3 and Sink7 tip, at the Bodden I use (clear) intermediate lines. It's just all so natural and simple, that's what I love about fly fishing.
adh-fishing: Depending on the country and state you can fish for pike almost all year round. In the Netherlands, for example, season is closed late, on the 1st of April. On May 1st you can start fishing again in many German waters. What is your favourite season and how do you change your techniques/tactics over the year?
Steffen Schulz: In Holland, as hard as it sounds, you can do almost the same thing all year round when you fish the big lakes. Fish at the edges and you catch. If you like fishing in harbours, you have the best chances there in autumn and winter. I sometimes fish extremely slowly in winter with very long holding periods. I don't do that in summer and early autumn. Often more speed is needed then. I usually fish streamers from 20 to 25 cm in cold water. In summer and autumn I use streamers from 12 to 18 cm. In the cold season I fish much harder on the bottom and troll the fly in the belly-boat behind me, strip it from time to time, hold it again and paddle slowly. I fish spots longer, in summer and autumn I make much more distance.
adh-fishing: If you could only fish one type of water for pike, which one could it be for you?
Steffen Schulz: Phew, the Bodden or Dutch Great Lakes...?? I take the lakes in Holland. The waters are simply dreamlike for the fly, huge, rich in structure and so incredibly diverse. From North Holland to South Holland there are very different but perfect waters for the fly. The Bodden fishing from October to February is also great but in the long run it is too easy and boring. I always need new waters and water types with different structures. This makes it more difficult but also more exciting during the year. Sweden would be great too, you can even catch colourful, brightly coloured flies with wiggletail fish. So many pike there!

adh-fishing: Pike fishing is the entry point to fly fishing for many anglers. What do you advise a "beginner" to get off to a successful start?
Steffen Schulz: Invest money in a good sink line! The reel is less important. It mostly stores your fly line and protects it from lying around, to put it casually. A strong brake is less important here than for example in saltwater fishing. A rod that is not too stiff and forgives casting mistakes also makes sense. With a length of 9ft. and from class #8 to #10. With a #9 you are ready for anything. Then you need exactly THREE streamers. The above mentioned golden-black one, a grey-white and a fluo-green white, all around 15 to 18 cm. If you don't catch pike with this one, you won't catch it on any other streamer.
adh-fishing: Thank you, Steffen, for your tips & tricks. We wish you many more big pike and look forward to your photos and reports! And of course what you can tell us about perch and zander. Tight Lines!