Patagonia - Committed To Save Our Planet. Patagonia's corporate philosophy has been focused on sustainability since the company was founded in 1973 by Yvon Chouinard. Patagonia also produces waders with the goal of minimizing the ecological footprint. We present you the robust and reliable waders, wading jackets and wading shoes from Patagonia.
Today, the name 'Patagonia' stands for sustainable and functional outdoor clothing. The Ventura/USA-based company, which now employs over 1500 people worldwide and is still privately owned, was founded by Yvon Chouinard in 1973. Chouinard was an avid climber and began his career manufacturing reliable carabiners and climbing hooks. He later imported polo shirts to the U.S. and, after traveling through Argentina, founded an outdoor clothing business: Patagonia.

Already in the 90s, the passionate fly fisherman wanted to switch to 100% organic cotton. However, at that time there was not enough supply of organic cotton on the market to meet Patagonia's needs. So Patagonia worked with its producers on its own strategies and projects to advance the company's sustainability. In addition to using organic cotton, Patagonia has always used recycled raw materials to make clothing - for example, for its wide range of popular fleece products, which are made from 100% recycled polyester.
In 2002, Patagonia was a co-founder of the One Percent for the Planet alliance. This voluntary alliance of companies pledges to donate 1% of total annual sales (or 10% of profits) to environmental organizations. As a result, Patagonia has donated approximately $90 million to more than 1,500 environmental groups and supported sustainability projects around the world through 2020. In recent years, the Blue Heart project, which critically addresses the construction of hydroelectric power plants in the Balkans and the destruction of the last wild rivers of Eastern Europe, has attracted a lot of attention among us fly fishers in particular. All about Blue Heart.
Waders by Patagonia - Swift Current Expedition, Swift Current Pants and Middle Fork Packable

Yvon Chouinard is an avid fly fisherman. Therefore, it was clear to the Patagonia company founder early on that Patagonia also produces special clothing for fly fishers in addition to classic outdoor clothing. And here, too, Patagonia places the highest value on sustainability. Especially because Patagonia's wading clothing is characterized by extreme durability and a long life expectancy.
With the Swifft Current Expedition series Patagonia presents the successor of the popular Rio Gallegos waders. Compared to the previous models, however, not only the design has been completely revised, but also materials and features have been significantly improved in our opinion.
Swift Current Expedition waders are available with or without a zip. Both models are made from Patagonia's proprietary, durable H2No™ Performance Standard microfiber fabric. This waterproof and breathable membrane consists of 4 layers, is made from recycled polyester, and features DWR (durable water repellent) waterproofing. For us, the most solid Patagonia waders ever! Swift Current Expedition Waders are also very full featured and offer a new improved fit. The adjustable straps with buckles are very convenient to quickly vary between chest and waist height. Other features of the waders include a waterproof inner pocket, hand warmer pockets with zippered cover, removable knee pads and of course sustainable booties made of synthetic rubber.
For the highest level of comfort, we recommend the Zip model, which has a waterproof, submersible YKK® front zipper. A great advantage - not only when putting on and taking off!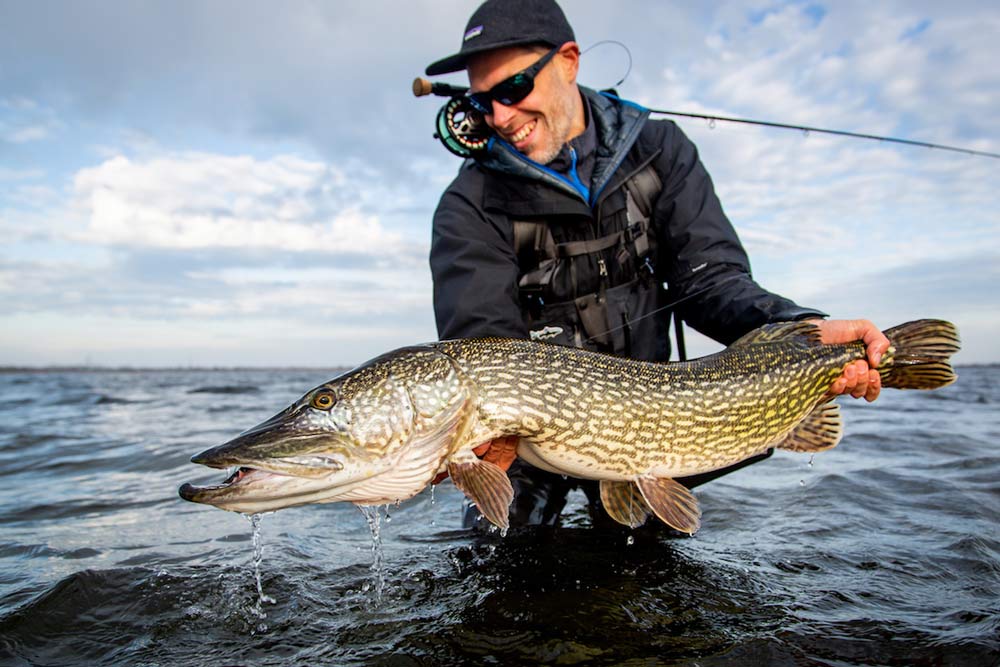 The Patagonia Swift Current Expedition Zip while pike fishing
And with the Swift Current Wading Pants and the Middle Fork Packable Patagonia also offers two minimalist alternatives for fishing at higher temperatures. Especially the Middle Fork Packable is a real innovation! Sure, lightweight waders already exist on the market, but none comes close to the minimal pack size (20 x 33 cm) and the low weight of just about 740g. This makes these waders the ideal travel companion on all tours where every gram and every centimeter in the backpack counts. Perfect also for summer fishing, at pleasant water temperatures or as a clever alternative to wet wading!
Sizes of Patagonia Waders
In addition to the extremely good fit, the extensive feature list and the use of recycled materials, we like the Patagonia waders especially well that you can choose between many different sizes. In the Swift Current models you will find three letters for each size. The last letter always refers to the size of the boot. Here you can choose between M (shoe size US 9-11) and L (shoe size US 12-14). The first letter refers to the general size and the girth. S means Small, M means Medium, L means Large, X means X-Large, 2 means XX-Large and 3 means XXX-Large. Finally, the middle number describes the leg length. Here you can choose between S (Short Length), M (Medium Length) and L (Long Length).
Some common examples:
MRM (Size M with regular length and regular bootie in size 9-11)
LLL (Size L with long length and large bootie in size 12-14)
XRL (Size XL with regular length and large bootie in size 12-14)
Exact information about each size can be found in the size charts of the different Patagonia waders in our shop.
Wading Boots by Patagonia - Built for a lifetime!
In addition to the most sustainable waders on the market, Patagonia also offers very special wading shoes. With the ambitious goal of designing the best wading shoe on the market, Patagonia launched an innovative cooperation in 2018: Together with the traditional company Danner, which has been manufacturing handmade shoes in the USA for almost 100 years, this has resulted in a series of exceptional wading shoes that are unprecedented in terms of stability, durability and comfort. Here, the best craftsmanship and decades of experience with welted shoes meet the extensive knowledge of the special needs of demanding fly fishers.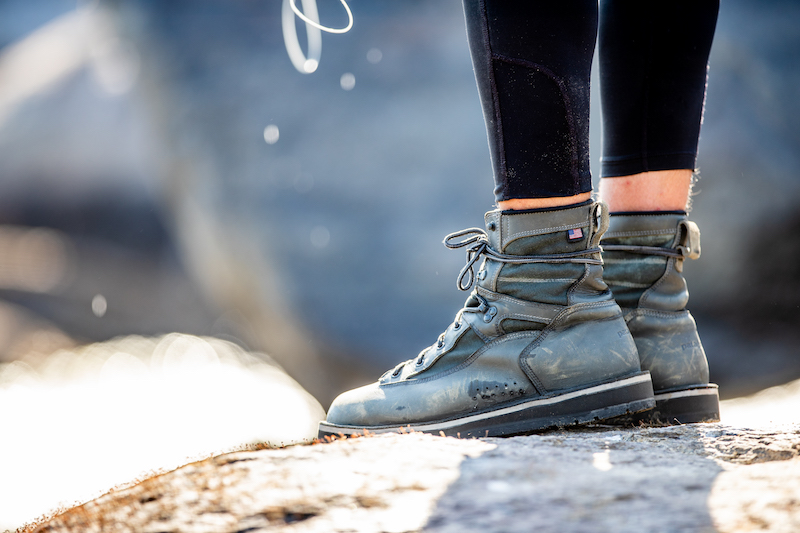 Danner Boots - Built for a lifetime
However, Patagonia's Danner wading boots are not only made of the highest quality materials in Portland, Oregon, but can also be extensively repaired and even resoled if necessary - in keeping with Patagonia's corporate philosophy.

Even when they were announced, the Patagonia Danner Boots caused quite a stir in the international fly fishing scene - and rightly so! A little later, the wading shoes were able to win these coveted awards, among others:
Overall Best of Show, IFTD (International Fly Tackle Dealers)
Best in Show at Outdoor Retailer, GearJunkie
Favorite Gear from Outdoor Retailer, Gear Patrol
Best New Gear, Gear Institute
Danner Boots are without a doubt the best wading shoes Patagonia has ever offered. If you are looking for exceptional wading shoes with extreme durability and appreciate handcraft and sustainability also in fly fishing, then you are well advised with the Patagonia Danner Boots. And after the first years of continuous use by our customers and our team, we can assure: The surcharge compared to other models is justified!

We have already been using the Patagonia Danner River Salt Wading Boots since the fall of 2018 on many trips to the tropical saltwater and jungles of South America. After long hours on the flats and after strenuous hikes over rocks and coral, we can only emphasize the quality of these wading boots. For demanding fly fishers unreservedly recommendable! Of course, this also applies to the different Danner Foot Tractor models.
Swift Current Expedition Waders & Danner Foot Tractor
Whether with aluminum bars or with rubber or felt sole: With the Foot Tractor from Danner you are perfectly equipped for trout fishing, fishing for sea trout on the Baltic Sea or salmon fishing and have the right grip for any surface.
Wading Jackets by Patagonia
Wading jackets also have a long tradition at Patagonia. The timeless SST has existed for many, many years and is always revised, improved and adapted thanks to new possibilities of sustainable manufacturing.
The SST is a classic wading jacket and a favorite of founder Yvonne Chouinard. The latest generation of this waterproof functional jacket has a modern design and is 100% color-coordinated with the current Swift Current waders from Patagonia. In addition to the revised look and cut, the SST also gets some new features that make this wading jacket a perfect companion for continuous use on the water. The SST Jacket has flat bellows pockets on the chest, a spacious back pocket, a sewn-on hood that can be adjusted with one pull and cuffs made of reversible StretchCoat material to keep the arms dry. With deep wading in mind, this jacket is cut a bit shorter - which will especially please fly fishermen on the river and coast. For extra deep water, the SST has double belt loops for added security when wading. Made from a 3-layer ripstop laminate of recycled nylon with waterproof/breathable H2No™ membrane, DWR (durable water repellent) waterproofing and fully taped seams, this wading jacket is a great choice. It offers excellent weather protection and can also be worn comfortably in combination with an insulation jacket.
And the River Salt also has some improvements to offer for Patagonia's latest collection. The latest wading jacket in the River Salt series is made from 4-layer, waterproof/breathable H2No™ Performance Standard fabric and is now 55% recycled. For us, Patagonia's toughest and most durable wading jacket and from the river to the coast an uncompromising companion for the toughest conditions!
As an alternative to the two well-known wading jackets from Patagonia, we can also recommend the Triolet Jacket. A real all-rounder! The richly equipped, multifunctional jacket made of waterproof / breathable 3-layer GORE-TEX® with recycled outer material protects against storms, wind and rain and offers the best weather protection on and off the water. A high quality rain jacket that can be worn both for wade fishing and everyday life and for us an interesting alternative to the well-known wading jackets from Simms with the well-known Gore-Tex membrane.
Service and Repairs at Patagonia
Patagonia is dedicated to making the highest quality and most functional outdoor products in the world. That's why they offer a lifetime warranty on their products and own the largest apparel repair facility in North America and a huge repair center in Portugal. True to the motto 'If its broken, fit it!', broken or worn-out products at Patagonia are therefore not disposed of, but carefully repaired - e.g. as part of the Worn Wear Tour initiated in 2013 or in one of the two repair workshops. Because, according to Patagonia, extending the life of our garments is the most important thing we can do to reduce our impact on the planet. So by keeping our clothes in use longer, we reduce our overall consumption!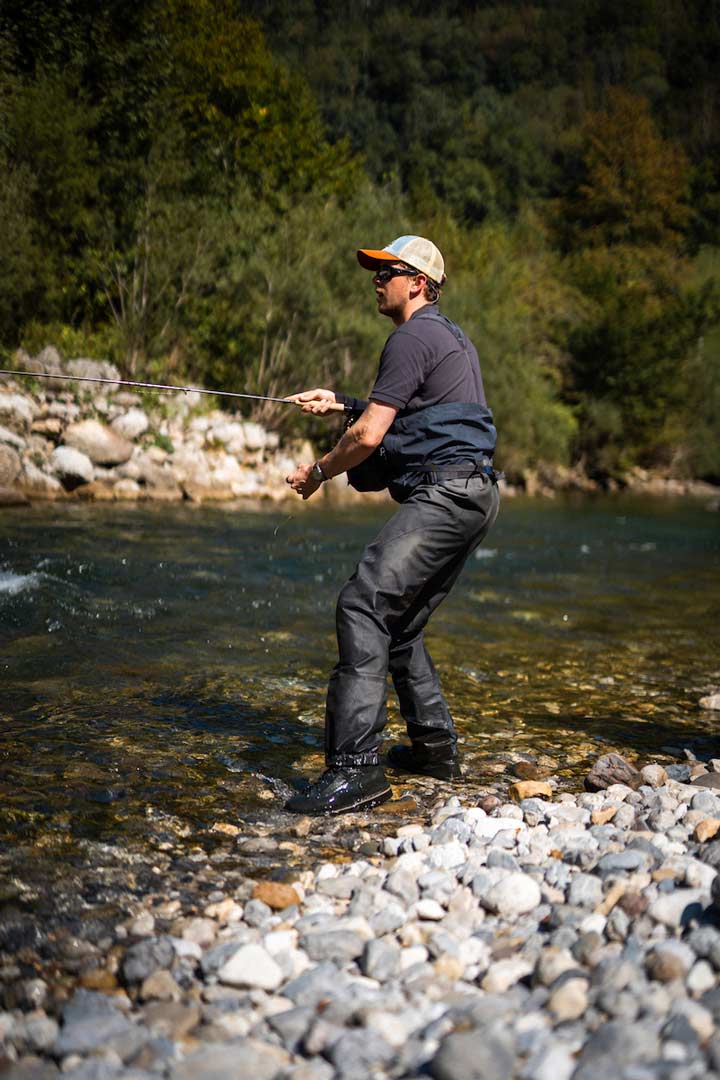 Sustainable waders from Patagonia
Following this sustainability idea, your broken Patagonia waders, wading jacket or your Danner wading shoe will be repaired if possible. If that is not possible, Patagonia will replace them free of charge. Whether your waders are older than 2 years or not: Everything will be repaired! Since the repairs are not charged except for the postage costs, Patagonia is from our point of view the undisputed winner in the area of service and sustainability. Because the most sustainable products are those that either never break or last a long time and can be repaired if the worst comes to the worst. And Patagonia has made that its mission.