After the spawning season, Pike are hiding in the shallow zones in many waters. For us fly fishers, this is one of the hottest phases of the predatory fishing season! Because now we can catch the big predators with light tackle and on the floating line. This means: aggressive attacks just below the water surface, which offer an enormous fun and addictive factor.
Besides the right tackle, the most important thing for fishing in shallow water is a pattern that offers a very lively action with minimal weight. Like the 'Articulated Hollow Bucktail Fleye' from Martin Rieck. This hand-length streamer is inspired by the special Hollow tying method of Bob Popovic, the 'God Father of Bucktail'. The famous fly tyer from the USA has worked since the 1970s primarily with the natural hair of the white-tailed deer and has developed numerous predator streamers for salt- and freshwater. In doing so, he has always minimized the use of material by leaving a clear gap on the hook shank between each layer of bucktail. Thanks to his clever Hollow tying method, it is possible to tie streamers that have a large silhouette but are still very easy to cast and develope plenty of movement in the water. And that's what we need right now!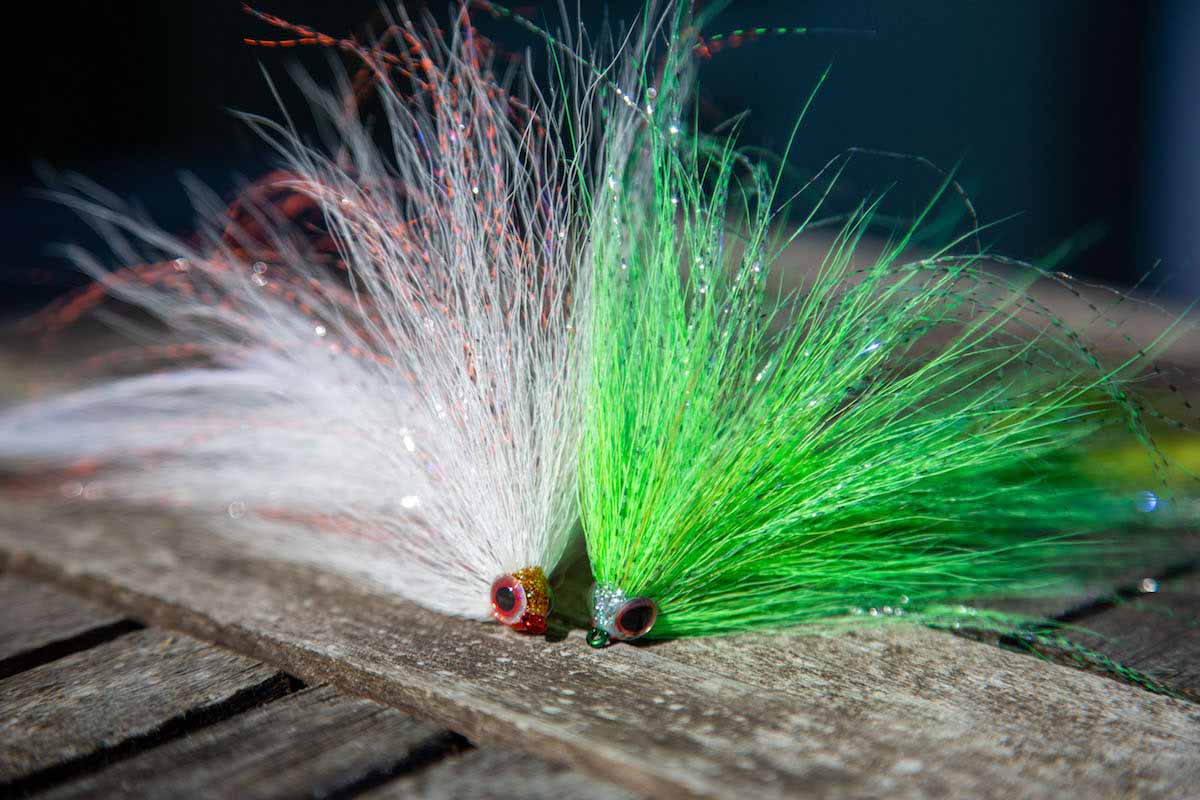 Bucktail - Flash - UV Glitter and a colored hook in #2/0
Besides Popovic's idea, Martin's bucktail streamer is secondly distinguished by the use of a shank. Thanks to this link, there is even more mobility in the fly - a big bonus on slow strips and an additional attraction for Esox lucius. Quite deliberately, Martin chose a #2/0 hook for his pattern. This is because a hand-length pattern is sufficient in the vast majority of cases to provoke even the largest Pike. Especially after the spawning season, when the pike have turned to smaller baitfish. In addition, a hook in #2/0 offers the advantage of a smaller lever, which minimizes the risk of the Pike getting off the hook in the drill (e.g. while jumping). A colored hook (e.g. from Vision in red or green) can also be used to create a subtle point of attraction, which can be combined with matching flash or other synthetic tying materials. But beware! When using flash, it is important to be sparing. Because less means more: more movement, more action - and easier casting.
Martin adds a third accent by using a special UV glue. Some Gulff glues have glitter particles that give the 'Articulated Hollow Bucktail Fleye' the perfect finish. This not only adds a little weight to the streamer's head, but also a subtle hot spot that is already a real eye-catcher on the tying vice.
Specifically, Martin's 'Articulated Hollow Bucktail Fleye' uses:
Vision Big Mama #2/0 (red) or Big Daddy #2/0 (green) Pike Hooks


Shank 25mm

Veevus GSP 150d

Gulff Minuteman

Gulff Thinman UV

Gulf Red Glitter UV

Gulff Golden glitter UV

UV-Lamp

Future Fly Rooster Saddle

Textreme Flat Chenille 40 mm

Flash (e.g. Grizzy Flash)

Large Bucktail

6mm Epoxy Eyes

Have fun watching, retying and fishing with this Pike fly! Your adh-fishing team