High quality meets a cool story! Patagonia's Swiftcurrent wading jackets are extremely robust and made from the new NetPlus material, which is won from old fishing nets. These sustainable wading jackets are designed for deep wading and best protection in rain and wind and will get you through any weather. We present the new Patagonia Swiftcurrent wading jackets with NetPlus in detail. Because we tested them intensively in Norway while fishing for Salmon.
Our beloved oceans and habitat for many fish that are at the top of our anglers' list, like the GT or tarpon, are being choked by plastic waste. A full 8.8 tons of plastic waste is estimated to be thrown into the oceans each year, and fishing nets are one of the most damaging forms of this waste. Around 650,000 animals become caught in these ghost nets every year. This makes the use of NetPlus materials in Patagonia's products more important!
NetPlus:
The NetPlus material is a recycled nylon material that is extracted from fishing nets that are no longer used. In extracting the NetPlus material, the company works closely with fishermen to keep or remove hundreds of tons of discarded nets from the ocean each year. The nets are sorted, cleaned and crushed in Chile and then processed into 100% recycled nylon pellets known as NetPlus. These pellets can then be made into molded plastic products, components or fibers and find a new sustainable use!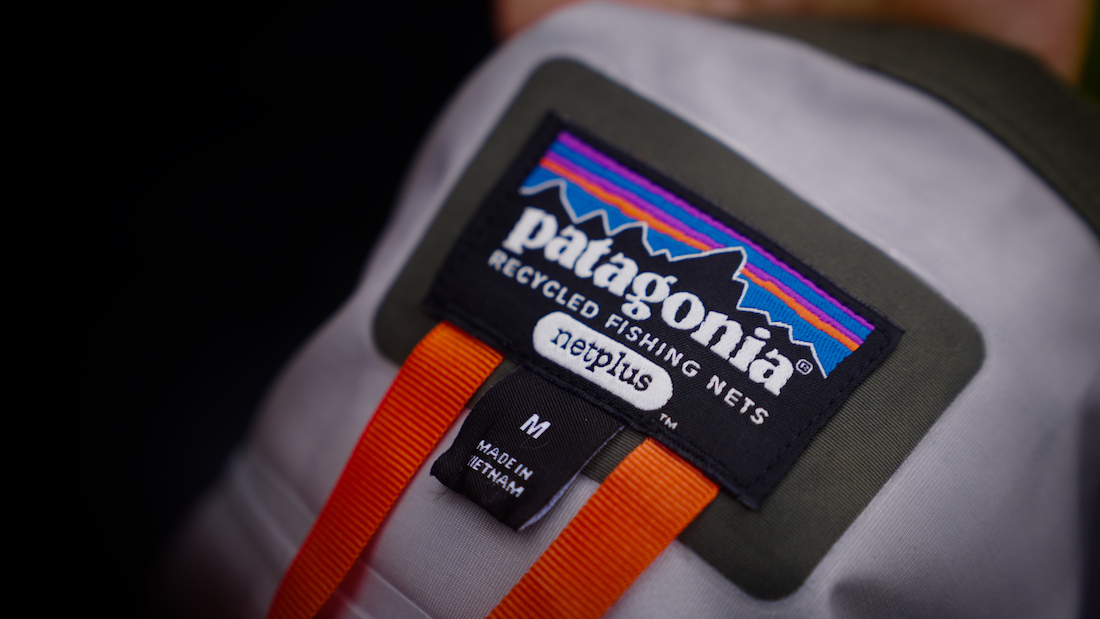 NetPlus is made from old fishing and ghost nets

In addition to the NetPlus material, the Swiftcurrent wading jacket features a 4-layer performance-standard 100% recycled nylon shell with waterproof/breathable H2No™ membrane, DWR (durable water repellent) waterproofing and fully taped seams. It offers excellent weather protection and can also be worn comfortably in combination with an insulation jacket in the layer system. The two large chest pockets are protected by water-repellent zippers and are sewn inwards. This has the great advantage that the pockets do not bother you, for example, when you also carry a backpack or chest bag. Behind the large pockets for fly boxes or other tackle, there are two protected hand warmth pockets. All of these 4 pockets were of course set high enough so that even deep wading is no problem. For deep standing in the water is also the elastic and adjustable drawstring, which allows an individual fit of the jacket, an important gimmick.

Other, great features of the high-quality wading jacket are, firstly, the waterproof, adjustable cuffs, with which deep landing or releasing a fish is no longer a problem. And on the other hand, the adjustable hood with its high collar, with which you are well protected from rain and wind. Ingenious is also that the collar is separated from the hood, so the high collar also protects against cold and wind when the hood is not worn.
Swiftcurrent jackets:
High quality wading jacket from Patagonia
Waterproof, breathable wading jacket with 4 outside pockets that don't bulk up
Protected sleeve cuff to keep fly line from getting snagged
4-layer H2No® Performance Standard shell made from 100% recycled nylon with a 15-denier round-knit slick jersey backer
PFC-free DWR coating (durable water repellent coating without perfluorinated chemicals)
Two flat front zippered pockets provide space for fly boxes
Zippered handwarmer pockets are positioned for deep wading
New NetPlus material made from recycled fishing nets
Two interior pockets, one zippered for secure closure
hood and integrated collar provide maximum protection in inclement weather and high winds
waterproof, adjustable cuffs
Adjustable, elastic drawcord for custom fit
Fair Trade Certified™
Regular Fit
Reliable protection from rain and wind

If you're looking for an extremely durable wading jacket, the Swiftcurrent from Patagonia is a great choice. Sustainably made, Patagonia M's Swiftcurrent wading jacket is a high-quality, thoughtfully designed wading jacket in a sleek and timeless design that protects you from the wind and weather, even though you barely know you're wearing it.