The Disperser Roll Top is part of the Guidewater series by Patagonia and offers 40 litres of volume for your equipment. The latest version of this waterproof pack not only has a modern design, but also offers even more functionality and comfort! In this video, we present the practical pack and its many great features in detail.
Camera, rain jacket, fly boxes, food, water bottle. For a long day on the water, a lot of equipment comes together! This is exactly where the Patagonia Disperser Roll Top scores. With a capacity of 40 litres, this backpack offers plenty of space to carry all your gear. But that's not all. Like the other bags from Patagonia's Guidewater series, the Disperser Roll Top also offers reliable water protection - against water from above and below. This is due to the hard-wearing, waterproof material made from 100% recycled nylon and the taped seams. And of course the clever roll-top closure, which protects the inside of the backpack ( as long as it is closed properly) from the wet. If the large opening of the backpack is rolled up at least three times and fixed with the help of the side clips, then the contents of the backpack will remain dry even when completely submerged. Ideal for safely transporting valuable equipment and sensitive gear when wade fishing, on the boat or during changeable weather conditions.
The key advantage of a roll-top is obvious: the backpack is extremely low-maintenance because there is no zip that needs to be greased or cleaned from time to time. In addition, the closure can be operated very quickly, which can be a bonus especially in hectic situations. And the Disperser Roll Top scores particularly well when wading deep, because you can bring the backpack in front of your chest, for example, and access the contents from above instead of opening the backpack with a conventional zip via the side.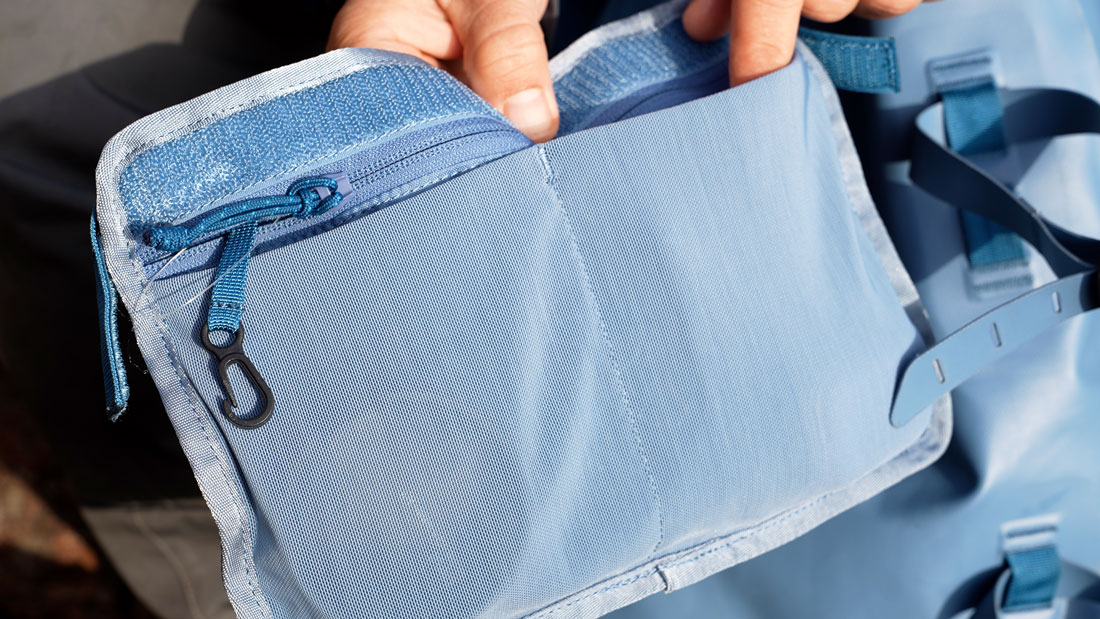 Versatile organiser bag for inside and outside
Apart from the functional roll-top closure, this backpack is based on the classic Guidewater with zip. It is also made of robust nylon with a TPU coating, which is made from 100% recycled material. The fabric and webbing of the bag are now made from 100% recycled nylon and the lining and back surface are also made from 100% recycled polyester. This means that the Roll Top also remains a very good choice for environmentally conscious fly fishers!
The hydrophobic material on the body side and straps no longer absorbs water in the latest version and therefore also offers very high wearing comfort. For fixing rod tubes, tools and accessories, there are various straps on the outside - more than in the previous version. A pocket integrated into the back padding now makes it possible to stow a landing net quickly and effortlessly. A great feature that further improves the functionality of the backpack when fishing. Like the Guidewater Backpack with Zip, the Roll Top also comes with an organiser pocket inside, which can also be fixed to the front in a snap. Perfect if you want to have tippet spools, leaders or other small items quickly to hand.
It is also particularly interesting that this backpack can be combined with the Patagonia Convertible Vest and the Stealth Work Station - which we also presented to you in a video. All in all, a very modern, very functional waterproof backpack for demanding fly fishers who want to protect their equipment from the wet.
Patagonia Disperser Roll Top:
Waterproof backpack made from 100% recycled nylon
Robust, durable materialFabric and webbing made from 100% recycled nylon
Lining and back made from 100% recycled polyester
Back and straps do not absorb water
Integrated pouch for landing net
Easy access thanks to practical roll-top closure
Various tabs for securing tools and accessories
Inner organiser pocket
Weight: 1170 g
Size: 36 x 23 x 52 cm
Fair Trade Certified™-manufactured
Capacity: 40 L
The Disperser Roll Top from Patagonia is huge! Its 40 litre capacity allows you to carry all the gear you need for fishing - and probably much, much more. If you're looking for a waterproof solution with maximum space, this is the model for you!

As with previous models, Patagonia's latest generation of waterproof roll-top packs come in a choice of different colours.