Keep It Simple! In this video Marina Gibson explains which flies beginners really need for their first box. Especially at the very start of a fly fishing career, the large selection of different patterns can be somewhat confusing. But with a few simple rules of thumb nothing stands in the way of a catchy fly selection!
Dry flies, nymphs, wet flies, streamers. The basic differences between the common types of flies used for trout fishing are not particularly difficult for beginners - even though there are now more and more patterns that break through traditional boundaries. For example, very small jig streamers presented like a nymph in dead drift.
However, in the search for the right patterns for a first fly box, feelings of confusion can quickly set in. This is because many questions typically arise at the beginning of a fly fishing career:
Which dry flies do I need for which season?
Do I need nymphs at all? And if so, how heavy should they be?
And what about the hooks: barbless or barbed? What hook sizes are common?
What should be the length of a streamer for trout?
And how many patterns do I need in total?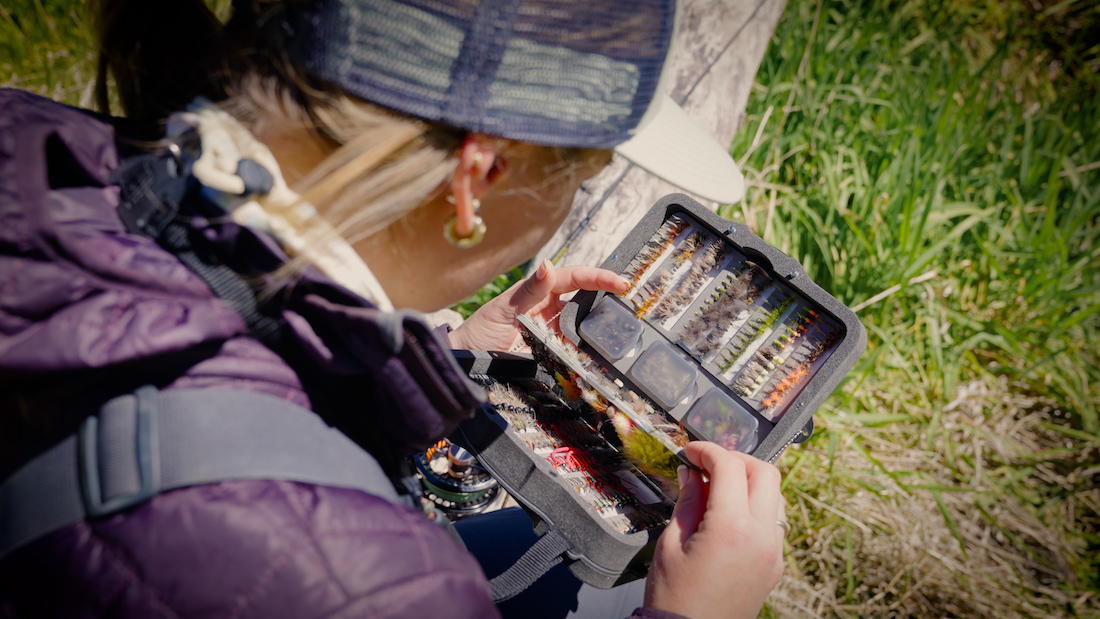 A packed fly box - With more experience comes a wider choice of fly patterns.
We are often asked these and many other questions during our support via phone and email. That's why we asked Marina Gibson what basic tips she has for beginners. In her fly fishing school in the north of England, she teaches many beginners every year and knows the typical questions that arise when putting together a first fly box and selecting first patterns.
Marinas Top 5 Tips for beginners:

Tipp 1: Keep it simple!
Don't get confused by the large selection of different patterns. Neither when browsing through our categories here on adh-fishing, nor when looking into the bursting fly boxes of experienced anglers. Over time you will not only gain valuable experience of your own on your waters and learn which patterns work particularly well, but also gain a better and better understanding of the materials, structure and characteristics of specific flies. The eye will be trained over time for subtle differences and the very special properties of different flies.
Marina's advice for the start: concentrate on a well-organised collection consisting of 12 dry flies, 12 nymphs and a handful of different streamers. This way you are well prepared for your first steps on the water and don't run the risk of suddenly finding yourself without a working pattern on a creek or river. Because there is nothing more annoying than finally spotting a ring on the surface, but having no dry fly left in the box because they have been torn off in trees and bushes or lost on the bottom while nymph fishing. And because the vast majority of running waters have populations of mayflies and caddis flies, you should concentrate on these basic types. Variations of a "Hare's Ear" tied with the brushy dubbing of the rabbit, or a "Pheasant Tail" tied with the unique tail feather of the pheasant, are not to be found without good reason in the fly boxes of experienced fly fishers all over Europe.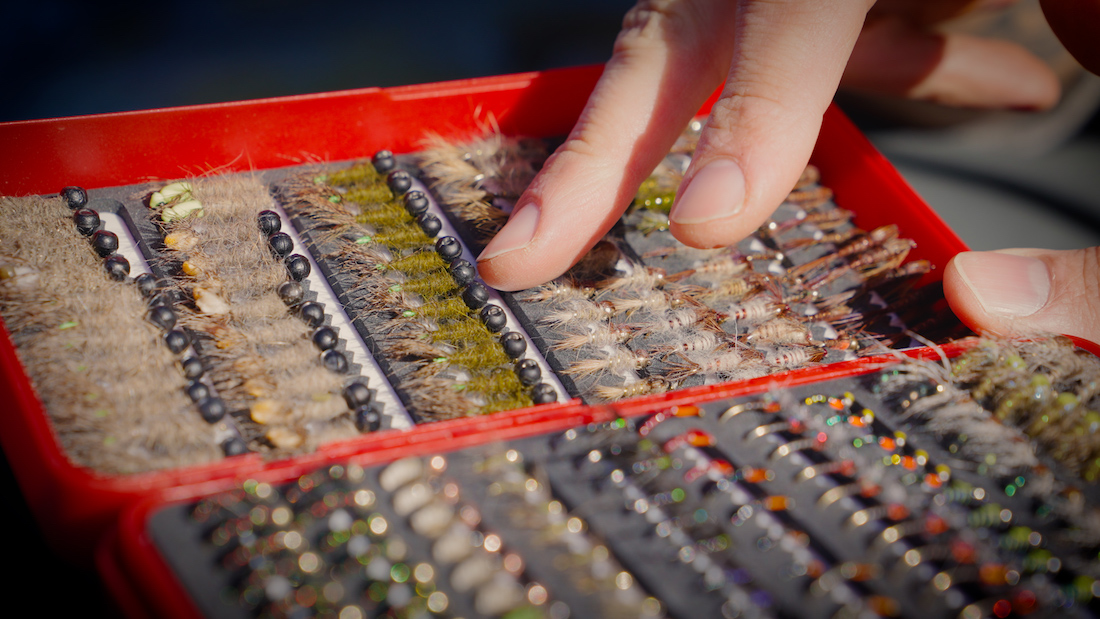 You can't go wrong with this: A selection of classic nymph patterns (e.g. "Hare's Ear Nymphs" & "Peeping Caddis")
Tip 2: Different sizes and weights!
Once you have gained your own first experiences and have been able to identify patterns that work for your home waters, then start buying these patterns in different hook sizes and - if they are nymphs - in different weights. This is because even a classic all-round pattern such as an 'Adams', which can be used to imitate various mayflies, will have a completely different appeal on a size #16 hook than on a large #10 hook. By choosing different hook sizes/weights, you have a lot of options to react to a hatches, for example, or (when nymph fishing) to different speeds of currents and water depths.
As a rule of thumb, however, Marina recommends: with hook sizes #12 to #16 and nymphs with beads between 2.5 mm and 3.5 mm, you are well equipped for many typical situations on the water and can cover a wide range of aquatic insects. And for streamer fishing she advises: Not too small! For example, a finger-length zonker with a hook between #4 and #8 made of soft rabbit fur that plays nicely in the current is a welcome snack for an adult brown trout.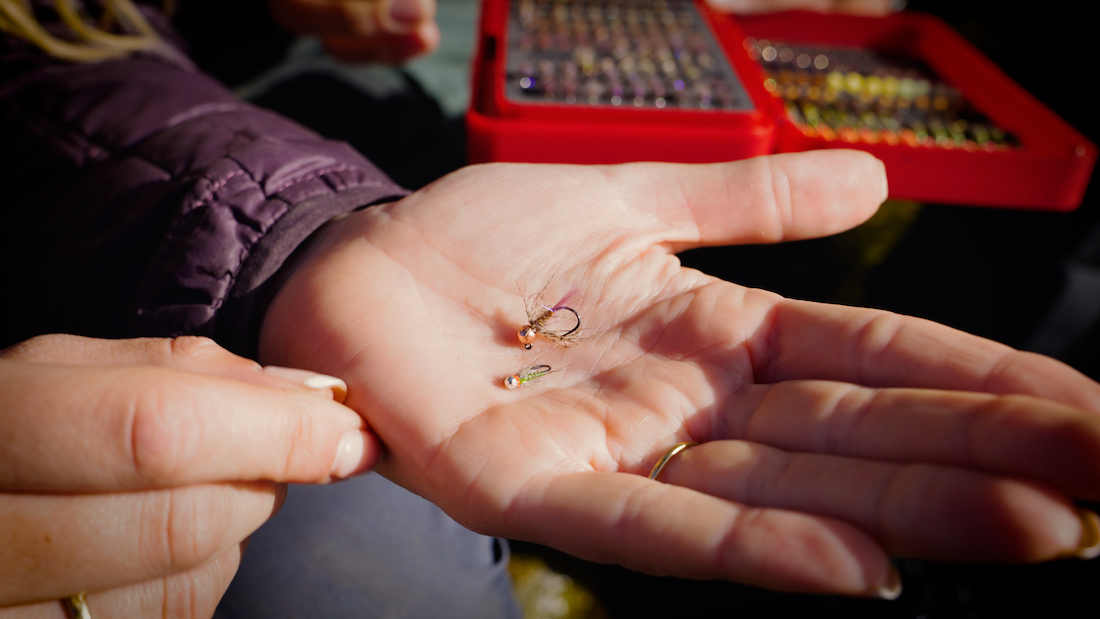 Hook size and weight play a major role in the presentation of a nymph
Tip 3: Quality over quantity!
What good is a catching fly if the head knot opens up after a strike or the pattern's buoyancy goes to zero after the fight? Nothing! And that's why Marina advises you to look around at the well-known, respected manufacturers when buying commercial flies. Here you can be sure not only that the workmanship is flawless, but also that high-quality hooks and materials are used. This applies to feathers, which contribute significantly to the ability of a dry fly to float, as well as to the choice of a tungsten bead, which determines how fast a nymph sinks to the bottom. In short: Instead of a large selection of different cheap flies, it is better to invest in a selection of high-quality flies that you can really rely on in practice!
Tipp 4: Get to know your local waters!
The most important tip for beginners from Marina: Get to know your own waters better! With a keen eye, you can gather a lot of valuable information about your stream and river and study the typical behaviour of the trout. A look under the stones is just as rewarding as a careful observation of the insects on the water surface. Even with a basic knowledge of entymology, you can draw many conclusions and make decisions more confidently.
For Marina, however, the exchange with other fly fishers is particularly important. Because in conversations with experienced "locals" you can acquire valuable knowledge that will be of great value to you when selecting patterns and putting together your fly box. Because at the end of the day, fly fishing is the same: Only practice makes perfect and every hour on the water is an hour in which you enrich your wealth of experience. This is especially true for beginners!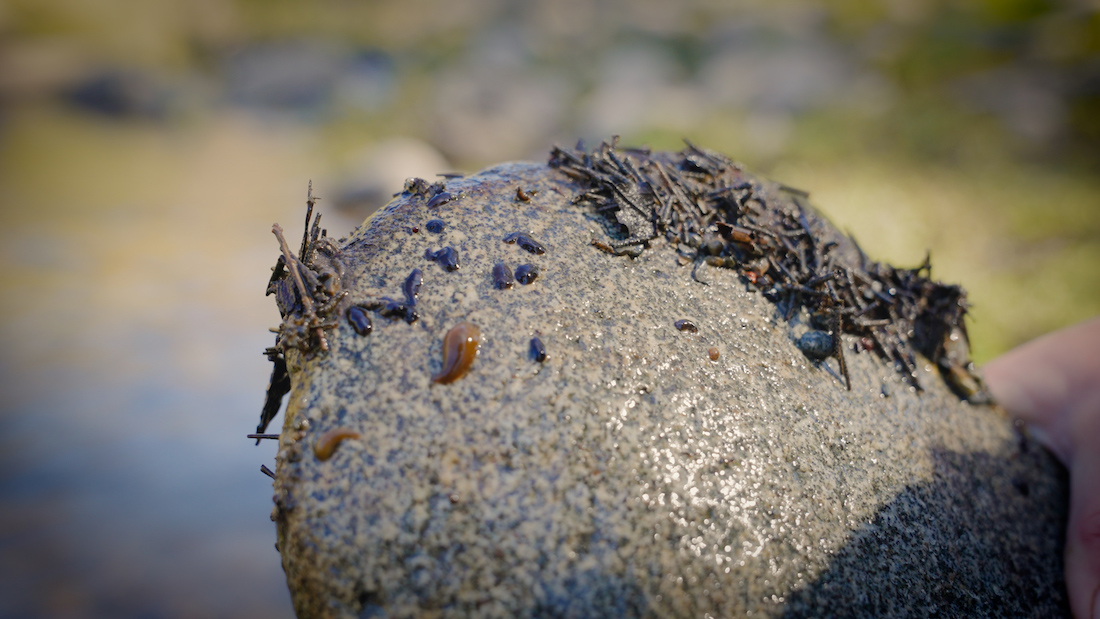 A look under the stones offers useful information about the natural insect population of a river or stream.
Tipp 5: Go Barbless!
Many well-known manufacturers of high-quality flies are now focusing more and more on barbless hooks. Marina also welcomes this trend. On the one hand, barbless hooks are in no way less effective in terms of "hooking properties", and on the other hand, barbless hooks hardly lose any fish in the fight, as long as pressure is applied to the fish. Even on waters that do not have designated "Catch & Release" stretches, the use of barbs is often prohibited. That's why Marina recommends carefully pressing on a small barb with the pliers. This also protects the fish immensely!
You can find some of Marina's favourite patterns from Fulling Mill's large collection below. And if you have any further questions about your fly choice, we will be happy to help you. Enjoy your first experience with a fly rod for trout!