We wish you a lot of fun with these high-end fly rods from Norway and the masterpiece of Leif Stävmo!
May we introduce: The NT11 rods from Guideline. The legacy of Leif Stävmo, who not only developed the successful NT8, but has also been responsible for many of the best trout and salmon rods of the Norwegian brand since 2001. His masterpiece, which he has handed over to Guideline on his retirement after many years of intensive rod building. In this video he introduces you to the NT11 rods.
Not only are NT11 fly rods the result of Leif Stävmo's decades of expertise, but also the use of the latest and most advanced graphite materials used in the modern aerospace industry. NT11 rods can therefore justifiably be called 'State of Art'!
The so-called C.A.P T1100 Technology is used for all NT11 blanks. This results in remarkable advantages. The most obvious effect is the amazing resilience and crispness of the blanks. In addition, NT11 rods are extremely light and yet extremely robust. This is made possible because Guideline has used the most modern graphite with the highest modulus for this rod series. No other rod in the history of Guideline combines such a low blank weight on the one hand with such a high breaking strain on the other. This is instantly evident in practice on the water! After the first few casts you can already feel how much life is in these rods and how sensitivity and power go hand in hand. We were able to convince ourselves of this during our tests on the water.
The NT 11 Series:
The NT11 series from Guideline includes single and double handed rods to cover most typical fishing scenarios for trout, grayling, sea trout and salmon.
NT11 Trout single-handed rods are designed to be excellent all-round rods for fly casters at all levels of skill. And when you choose one of these rods with NT11 technology, you can expect nothing less than a high-end experience. All models in the range feature a cutting-edge, crisp and powerful mid-flex action with unmatched recovery speed. The feel is light and comfortable at the tip, but still stiff enough to be precise and push the load further into the blank, making them extremely stable and agile.
NT11 Salmon & Seatrout single-handed rods have a medium-fast to fast action and a deep-loading blank that makes this member of the NT11 family very versatile. These rods perform on the coast with high line speeds and extreme casting distances, but also make a shooting head on the stream or river shoot from the hip as if it were entirely automatic. Even sink lines and big pike streamers are no problem on the higher classes of the NT11! The 10 ft. length makes this rod particularly suitable for single-handed salmon fishing!
NT11 Salmon & Seatrout double-handed rods are six-piece and prove once again that the Scandinavians know how to build travel-friendly fly rods. The action presents itself as deep-loading and yet extremely snappy. The progressive blank offers extreme power reserves in the lower range, while the crisp tip brings a high degree of precision and control to the cast. This very versatile action makes it possible to handle a wide range of lines and execute many different casting styles. Heavy sink lines and bulky skagit shooting heads are mastered with ease by the rod from the lower part of the blank, while skandi casters also get their money's worth thanks to the reactive tip.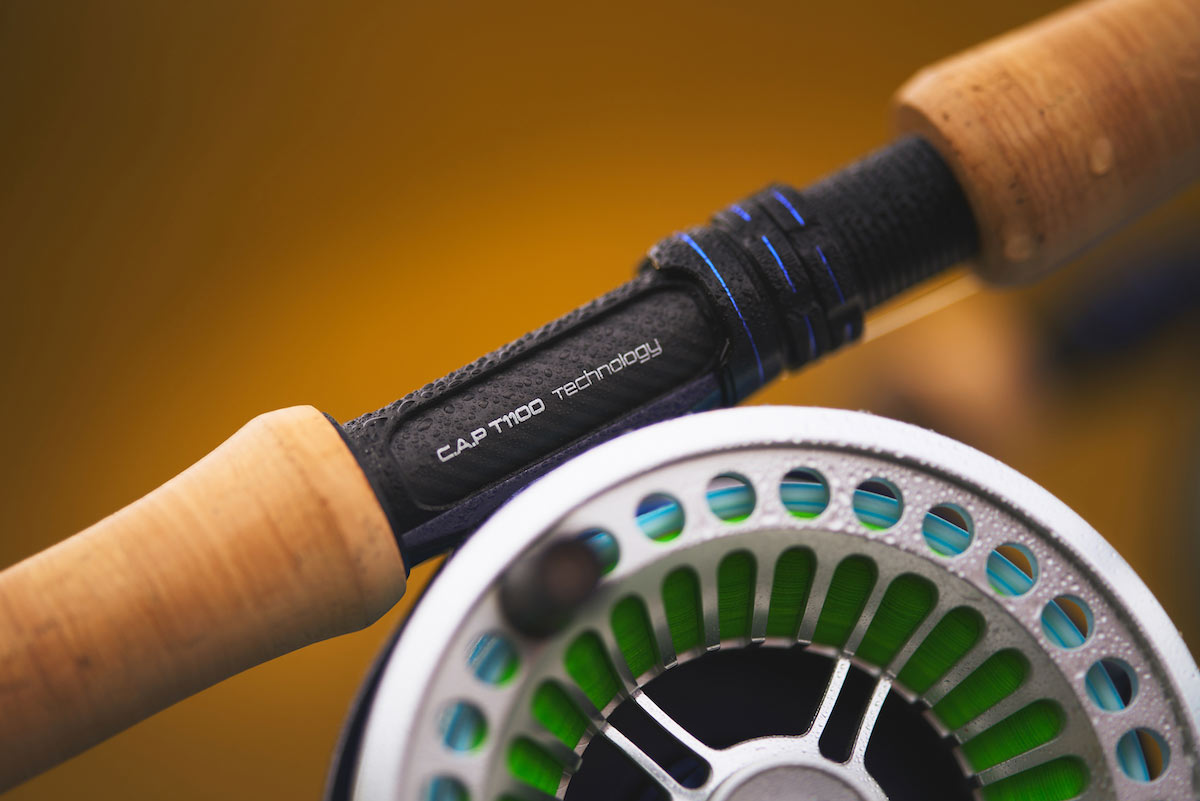 Guideline NT11 Fly Rods with C.A.P T1100 Technology
C.A.P T1100 Technology:
The ultimate goal in fly rod design is to build a strong blank while making it extremely light. However, with a standard manufacturing process, there is a risk that a rod will break too easily if it is light and thin-walled. Also, it often becomes too heavy if it is built too strong. The characteristics and performance of Guideline NT11 rods are therefore difficult to replicate, because Norwegian specialists use the best available materials along with the best available manufacturing and reinforcement technologies to achieve an ideal structure in the blanks.
All NT11 rods use an ultra-elastic 46T Low Resin material that allows them to create feather-light blanks with a crisp feel that greatly enhances sensitivity. Layers of T1100 graphite with extremely high tensile and compressive strength are added to both the inside and outside of the 46T material, creating an incredibly strong foundation for unmatched blank performance, durability and reliability. In addition, Guideline uses a carbon scrim material with a proprietary CAP (Complex Axial Pattern) with 0, 45, 90 and -45 degree cross construction structure. This results in lightning fast recovery speed, increases casting distance and improves compressive strength. High strength graphite reinforced with TORAYCA NANOALLOY® resin improves durability and increases rod life.
The special nano-material of these rods prevents damage from external shocks, internal stresses or fatigue, as the blank flexes and relieves stress repeatedly during casting and fish fighting.


In Short: the material properties of Guideline NT11 blanks can be described in these simple words. Extreme durability, light weight and unusual recovery speed. We wish you a lot of fun with these high-end fly rods from Norway and the masterpiece of Leif Stävmo!