Simple Flies - Under this motto we present you flies that are tied with few materials and in few steps. Because good flies don't necessarily have to be difficult - quite the opposite! These patterns can be tied quickly and easily. Patterns, that have proven themselves thousands of times in practice and with which you can quickly fill your fly box. We show you our interpretations and hope you have fun tying and fishing these Simple Flies. Let's go!
Mayflies are found on almost all streams and show up in different sizes and colors throughout the year. One of the most important colors is olive. Especially in spring, we find many different olive-colored mayflies in creeks and rivers, which are high on the menu of trout of all sizes. In the current fly collection of Fulling Mill we find with the Roza's Olive Nymph a suitable pattern for imitating these insect larvae, which we would trust without reservation on bright days and clear water. Here we have re-tied this successful pattern of the Czech Lubos Roza for you.
For the Olive Mayfly Nymph are used in detail:
Coq de Leon
Rough Hare's Ear Dubbing (olive or brown)
Wire (green)
Jig Hook (e.g. by Hanak, Fasna or Soldarini)
Slotted Tungsten Beads (metallic olive or copper)

The material list for the Olive Mayfly Nymph is short. A real Simple Fly! The most important material for this jig nymphe is a qualitative natural dubbing with long fibers, which can be brushed out well. The somewhat coarse structure of this natural fly tying material creates a very imitative look, which will convince especially shy fish.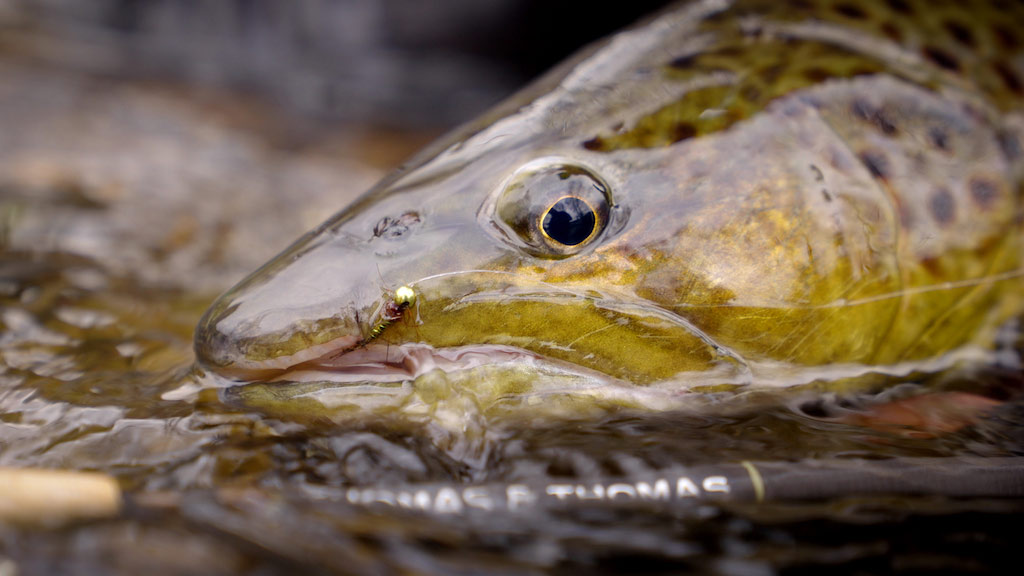 For the bead, we decided on a matching metallic tone. Olive or copper fit very well here. Hook size and weight (or diameter) of the bead are chosen depending on the water level and vary for us between #18 and 2.5mm for low water days and summer fishing and a barbless jig in #14 and with a slotted bead in 3.5mm for deeper runs and the start of the season. A special eye-catcher of this nymph is the ribbing wire, which sets a great color accent in bright green.
With a repertoire of different sizes and weights you are well equipped for the whole year. And if you don't tie your own nymphs, we can recommend the current collection from Fulling Mill. There you can find this pattern and similar tactical nymphs.