Tailored to the popular Beast fly rods, the Norwegian manufacturer ArcticSilver now presents the MD Beast fly lines. They combine state-of-the-art line technologies with an innovative design that is designed to carry even very large predator streamers with ease. We tested these interesting new lines for you under challenging conditions in our latest video.

Arctic Silver is by no means a new term on the fly fishing market. The modern brand from Scandinavia has gained a futuristic image especially through its pattern-breaking designs. In addition to the innovative rod design with the unique Free-Flex composite handle, the dynamic company has also developed a range of modern fly lines for many facets of fly fishing. Here, too, the approach: be different from the others and convince with innovative features. The latest members of this series: the new Beast lines, matching the rods of the same name, they complement the line range of Arctic Silver with a series of suitable predator models, especially for casting large, wind-resistant streamers.

Classic oder Compact - power or precision?
Arctic Silver has deliberately chosen two different versions of their new Predator line and thus offers ambitious fly fishers the possibility to find exactly the right model for their individual use case. Classic for more control and precision in the cast - Compact for more power, i.e. more energy in the cast to fire really big, wind-catching flies into the elements.
We have tested both versions extensively and under the most adverse conditions: Storm, cold and with large flies! Thereby we are sure: both models have equally their justification for existence and will inspire fly fishers with different requirements!
Compact: unstoppably forward, ideally with as few false casts as possible. The convincing casting performance of this Compact variant is based, among other things, on the very compact head. 9.14 m with a lot of weight in the front part. This allows extremely efficient casting with as little effort as possible and hardly any false casts, which is a great advantage especially when fishing large flies, deep wading and fishing from a belly boat. In addition, its compact club offers a very strong turnover, which allows it to effortlessly distance even large pike flies, even in strong winds!
Classic: Pike fishing can also be delicate. The magic word here is: the mid-length belly. It has the proven taper design of the MD Compact Beast, but with a 1.22 m extended head length. Thanks to its slightly longer club, it enables unimagined casting distances and very precise presentations. It also allows extremely efficient casting, but at the same time offers the possibility to hold more line in the air and thus present even more precisely. When shoreline edges have to be meticulously targeted, when precise presentations are to be made to the reeds, or when the somewhat smaller pike streamer is not allowed to land so roughly on the water - it is precisely in these scenarios that Classic Variant plays to its strengths. Despite the longer head, the weight is clearly shifted forward, whereby this mid-length model also generates a powerful turnover and thus efficiently transports bulky pike streamers to its target.
MD - Micro Diameter: The keyword when it come to distance casting
Thanks to its so-called Micro Diameter (MD) design, the runningline in particular has a very small diameter. This ensures the lowest possible friction in the guides, which allows high line speeds, better wind cutting, excellent shooting behavior and consequently impressive casting distances. Thus, this line carries even gigantic pike streamers to record-breaking distances, even in disturbing winds. The low-stretch braided core also guarantees direct contact with the fly as well as assertive hook-sets - even at full casting distance. For us, the thin diameter offers another advantage: Your line takes up less space on the reel, so you can easily get a heavier pike line on your sea trout reel.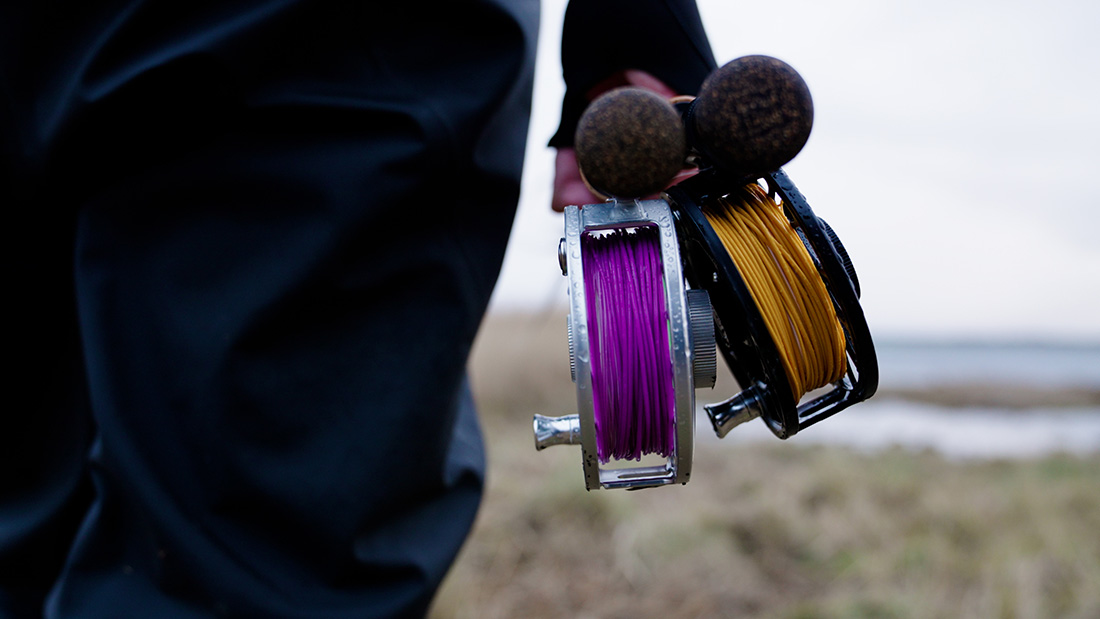 Thanks to MD (=Micro Diameter) you get the Beast pike line easily still spooled onto your sea trout reels.
But beware: If the fingers are wet and cold, the thin diameter of the runningline can reduce the grip somewhat. But even for this potential problem, Artic Silver has come up with a practical solution, at least when casting: The so-called "handling zone" with a length of 4 m provides a remedy! This grippy area between the running line and the club allows for improved line control during casting and fishing. So thanks to the color transition you know exactly when the perfect time is reached to let the line shoot.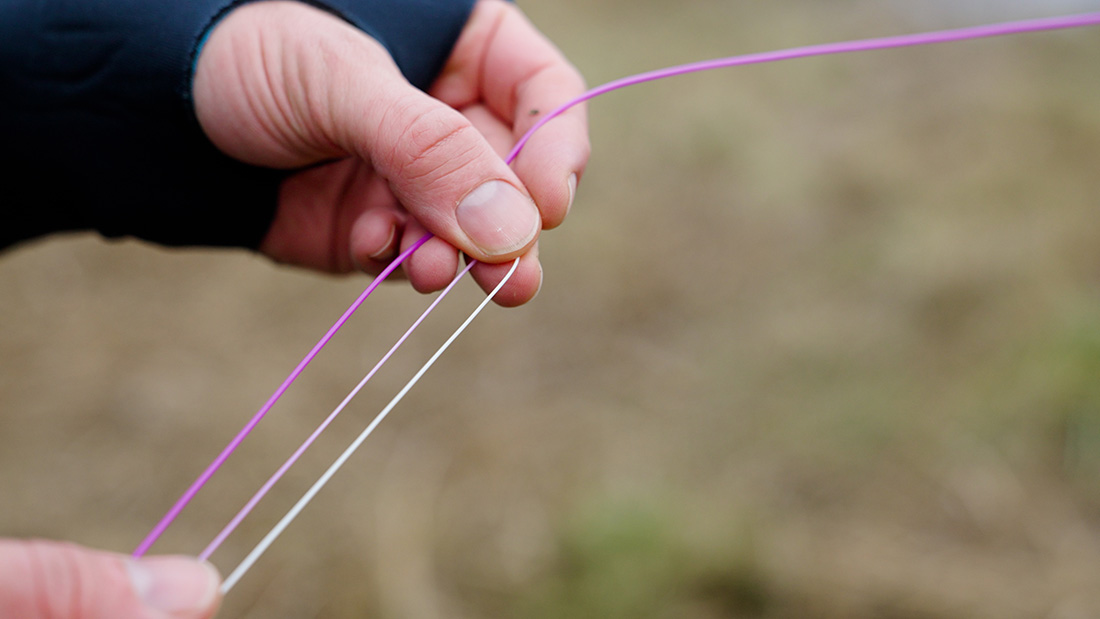 Handling zone between head and runnling line: More grip on the cast and an easy marker for the perfect shooting point.
Which sinking rate fits my situation?
A large selection does not always facilitate making a decision. However, especially when it comes pike fishing, a wide range of different sinking rates is very important to us, because the streamers must also be perfectly presented vertically and fished at the right speed. To help you choose the perfect line for your fishing situation, we present the individual sink rates in detail:
Float: The fully floating line is ideal for all shallow water applications. Anything shallower than waist deep can be perfectly covered with the floating variety. Of course, if you want to fish topwater, you can't do without a floating line.
Float/Intermediate: The absolute all-round sinking rate when targeting pike. And the great thing: the Beast Intermediate lines are "real" Intermediates, which sink with a sink rate of 1 inch/s (2.5 cm/s) slightly slower than most intermediate pike lines on the market. With this you can cover water depths of 1-2.5 m, fish shallower, slowly dropping edges excellently, or slow down your retrieve under water for lethargic winter pike.
Float/Sink3: The perfect line for faster dropping edges. Thanks to the floating running line, this sinking line on ideal for bank fishing, anywhere where the bottom of the water dropps off a little faster, for example, in dredge lakes, in channels or in fairways. For us it is also a great winter line, as the somewhat lazier pike can be picked up perfectly in the depth.
Sink2/Sink4: This is where it really goes down! And we are particularly pleased that Arctic Silver has decided against a very fast club with barely sinking running line, but for a 2D variant that sinks over its entire length. It allows you to fish very deep but still slow down the retrieve. Especially for those anglers who like to fish from a boat or belly boat in deeper waters, this faster sinking model is a dream!
From the shallow, knee-deep bay, to the small, obstructed pond, to deep reservoiry, the Beast series offers not only the perfect taper design for your specific requirements, but also the right sinking rate,
Smart packaging - much more than just a cardboard box:
As with everything from Artic Silver, the young company has hidden a great gimmick even in the packaging design. The robust, magnetic outer cardboard can be easily reused as a practical fly box thanks to built-in foam slots. A great, sustainable solution, in our opinion! The topic of sustainability is very important to Arctic Silver, which is why they joined the "1% for the Planet" initiative from the very beginning: 1% of the entire company turnover is reinvested in ecological projects. We are of course very happy to support this cause!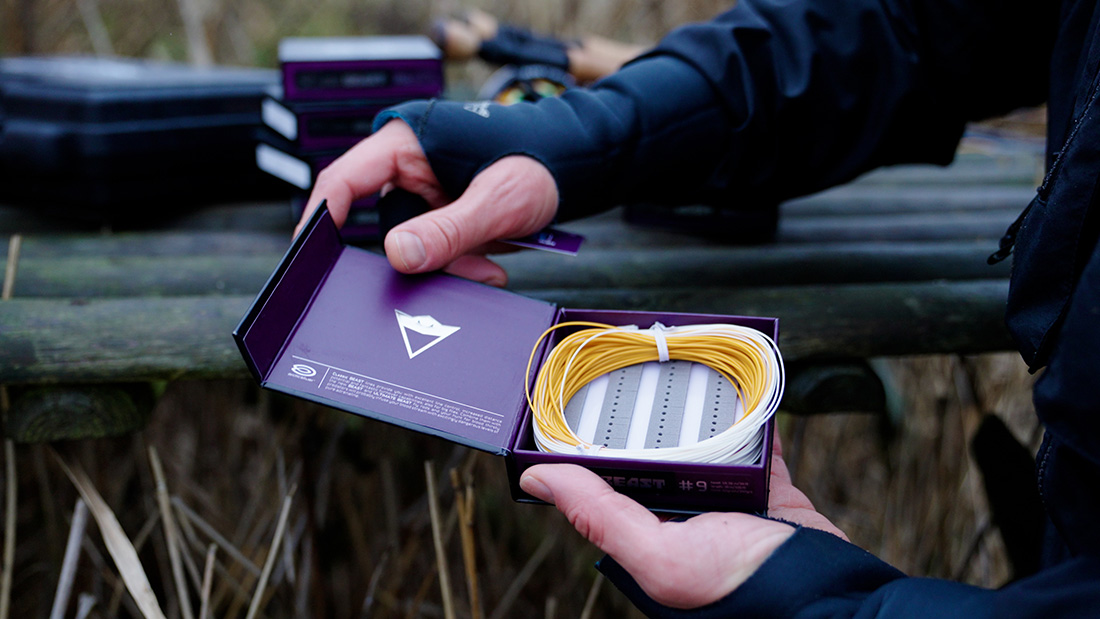 More than just a packaging: The fly line box is in fact a perfect fly box thanks to the slitfoam inlay.
In short: With the MD Beast models, the manufacturer ArcticSilver presents a series of very convincing fly lines for fishing with large flies for predatory fish of all kinds. It lives up to its promising name, because this is indeed a real "Beast" with very powerful casting and fishing properties!
Die Arcitc Silver Beast Fly Lines at a glance:
Modern streamer line with innovative design for superior casting performance.
Classic: Medium-length head with relatively short front taper for accurate, balanced casting and powerful "turnover" for casting large streamers
Compact: Very compact head with relatively short front taper for punchy casting and plenty of power when casting large streamers and in high winds.
Transports weighted patterns and bulky pike tubes with ease
Thin running line with Micro Diameter Design (MD) for high line speeds and impressive casting distances
Handling Zone with a length of 4 m - a grippy area between running line and head for improved line control during casting and fishing
Extremely strong braided core for perfect power transmission during casting, effective hook-ups and direct contact with the fly
Multicolored structure for good orientation during casting and fishing
Welded loops with a flat profile at both ends
Available in different sink rates: perfectly covers the vast majority of predator situations.
Supplied in practical, reusable packaging box with foam slots
1% for the Planet: part of the purchase is reinvested in sustainable projects
Our conclusion:

An extra-thin line diameter for pike fishing - do you even need it? We were really skeptical at first, we have to admit. At the end of our fishing trip we were all the more surprised by the overall performance of the lines, which we were allowed to expose to the worst fishing conditions during our test days: freezing cold, strong wind and then with chunky pike streamers - a real baptism of fire and the absolute test.
The thin diameter certainly has advantages and disadvantages for pike fishing. The shooting behavior is outstanding, especially if you add the wind component on top. Even with the Classic variant, the line shoots smoothly through the guides after a few false casts without. Thanks to the marked handling zone, you also know directly when you can let the line shoot perfectly. However, there are cutbacks in the grip, here it must be said quite clearly: With the Micro Diameter you do enter into a compromise, because the thin line is not always easy to grip, especially with cold, wet fingers, but you can get used to it well and the slightly thicker handling section helps enormously in the cast.
What we particularly liked was the setup of the sink rates. Here you can see that the product designers at Arctic Silver have also spent a lot of time on the pike water. Especially the slow sinking intermediate makes it possible to perfectly control the speed of the fly underwater. As we have alternated between shallow bays, gently sloping shoreline areas and incisive break-off edges, almost every sink rate has found an ideal area of use for us. Only the Sink2/Sink4 model was a bit too fast-sinking for us from the bank - but this version will be absolutely trump from the boat or belly boat.
So: If you're looking for a really versatile and above all easy-shooting pike line that offers you exactly the right model for your individual fishing, then you are at the absolutely right address with these new Beast lines from ArcticSilver - whether in the Classic or the shorter Compact version.